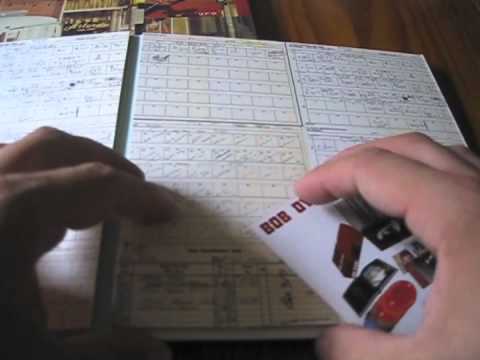 This article was last updated on May 25, 2022
Nokia Music has the 53 song Deluxe edition of Bob Dylan's Another Self Portrait (1969-1971): The Bootleg Series, Vol. 10 for $9.99, the lowest cost anywhere

Bob Dylan The Bootleg Series Vol. 10 Another Self Portrait (1969-1971)
By some quirk, Nokia Music is selling the Deluxe edition of Bob Dylan's Another Self Portrait (1969-1971): The Bootleg Series, Vol. 10 for $9.99.
That beats Apple iTunes by $20 ($29.99), Xbox Music by $21 ($30.99) and Amazon.com by $18 ($27.99).
I have no idea how long that price will last but it sure is the best price, which overcomes my objection to paying an inflated price for what I consider the best part of Bootleg 10 – the Isle of Wight Bob Dylan concert with The Band.

Bob Dylan at the Isle of Wight (1969) (photo Expecting Rain)
The 1969 Isle of Wight Concert has been extensively bootlegged but none of the copies are worth listening to, which is why some critics pan Dylan's performance. The remixed and remastered 18 songs included on Another Self-Portrait are a revelation of Dylan as an engaging and consummate performer.
He solo sets which are some of his best with lots of dynamics in his voice and guitar playing. He switches from the hard edged rock of 1966 to Nashville Skyline crooning to the drier voice that would be heard on New Morning.
The Band does a great job of backing Dylan, much less ragged than the 1966 tour of England. Robbie Robertson excels on the rock material and struggles a little with the country licks Dylan needed for the Nashville Skyline material but that's just a minor quibble. Some of the songs in the performance are classics, like Garth Hudson on accordion during "I Pity The Poor Immigrant." I especially liked hearing Levon Helm's drumming so clearly in my right ear.
The Nokia Music Store price is the same for the 35 song version and 53-song version of Another Self Portrait. There are Windows 8, Windows Phone 8 and browser versions of the Nokia Music Store. Once you sign up for an account, it's good go on purchasing the music.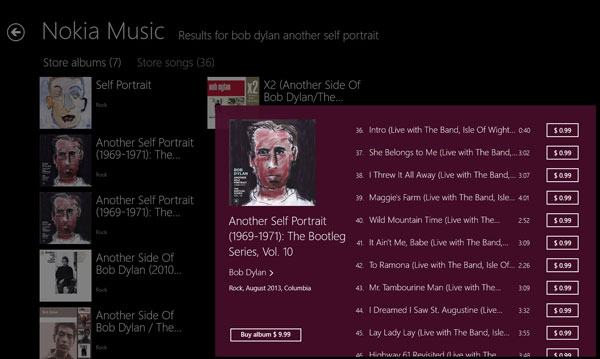 Bob Dylan's Another Self Portrait The Bootleg Series No 10 Deluxe MP3 edition selling for $9.99 at Nokia Music Store
I'm not a total fan of the Nokia Music Store. Some of their rules are non-intuitive and even clumsy. However, they have the best prices like $.99 for songs and $9.99 for albums. Remember the good old days before Apple iTunes raised their prices to $1.29?
The MP3 files are the same 16-bit 256 kbps quality that iTunes, Amazon and Xbox sell so there is no audible difference that I could hear on Sennheiser HD580 headphones.
None of the digital versions include the fancy fold out book and picture essay book that Columbia includes with the $100 Another Self Portrait (1969-1971): The Bootleg Series Vol. 10 (Deluxe Version) Box Set.
To see what the Deluxe Box Set includes, you can watch someone unbox theirs in this video.
You can find the pictures or commentaries of the 4 CD's online of course and save $90.
Nokia Music downloads don't contain the track number in the file name. You can easily add the track numbers with a file name change or in a music player/organizer like Music Bee. Adding the track numbers on my Windows Phone 8 confused the music players. I had to delete those files from the phone and download them again.
I am coming to the conclusion that collecting disks, books, DVD's, Blu-Ray and all the other physical media is the past. I had to pack and move 2,000 plus physical media items this year. It was a waste of time and money. None of it has much value and the effort to store and retrieve them all is going the way of the dodo bird. Digital media is easier to find and use.
I am not ready to ditch my albums, cd's etc. but it seems like a dumb idea to add more when it's cheaper and easier to use digital media.
We spend more time enjoying movies on Netflix for $8 a month, like most people, than watching the movies we own.
The times they are a changin'.
If you can't get the $9.99 price, leave a comment and I'll check it out and revise the story. Thanks.
You can publish this article on your website as long as you provide a link back to this page.