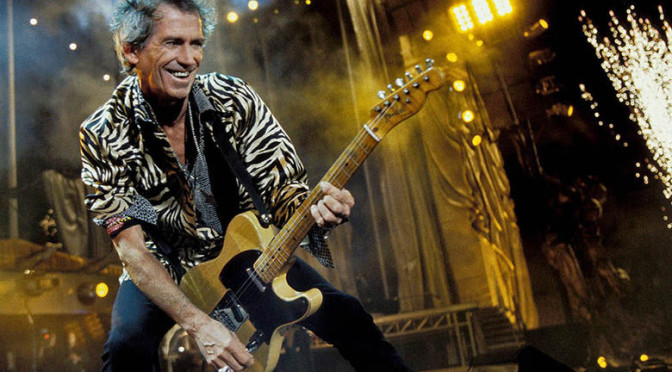 Keith Richards turns 70 today – it's a good time to celebrate one of rock and roll's original artists
Keith Richards is the rhythm guitarist, songwriter and found member of The Rolling Stones, one of the oldest rock and roll bands still recording and touring.
Thanks to my friend Paul Ness for reminding me it is Keith's 70th birthday today. Happy Birthday to Keith Richards.
I've been a Stones fan since the early 60′s with great hits like "The Last Time" and the album I still keep in vinyl December's Children and Everybody's. That album shows how much The Rolling Stones and Richards learned from and adapted American music. No one but the Stones does Hank Snow's "I'm Moving On" as a funky rocker like the Stones.

Travelling back from Toronto in November, I picked up Life: Keith Richards

, his autobiography.
An ex-pat Islander buttonholed me in the Toronto airport lounge. "Are you reading about that drug addict and maniac?" she asked in more or less those words.
"Yes and he is the one of the all-time greatest rock and roll rhythm guitar players and a bit of a nut case," I said "but what do you want in a rock and roll star?"
"Life" is a warts and all book. We learn about Keith's childhood in the poor East End of London, his early trials learning American R&B, his tempestuous relationship with lead singer and songwriting partner Mick Jagger. Yes and lots about his sex life, the drugs he used and how he beat the law.
Moral judgments aside, Keith Richards is an interesting person, with strong opinions on everything. Of course it's his book so the warts are all adorable as he explains them.
835 Amazon.com readers give the book 4 out of 5 stars. The only slam is that the book bogs down in the middle a tad.
To color and deepen what the book covers, BBC TV interviewed Keith Richards and the tape is on YouTube, which is the part Paul Ness gave me.
If you've read the book, the video is worth watching. If you haven't read the book, the video might wet your appetite for the read.

Once I got started in the book, I had to back-fill my Rolling Stones song library and after reading all the reviews, I picked Hot Rocks 1964-1971

The 2-CD collection has 21 hits from "Time Is On My Side" to "Wild Horses". It doesn't miss a hit and a good place to start if you aren't already stocked up on 1960′s Stones.
Can you remember who you were dating when those songs were on the radio? I sure can. I sent an email to an old flame from 66 reminding her of the time. That should be safe after almost 5 decades.
Before I quit playing guitar I am going to learn to play those 5 string open chords invented by Keith Richards. He has created some of the greatest riffs in rock and roll and it's all about the riff. Think about "Satisfaction" and "Start Me Up." It's all about the riff.
4.5 / 5 stars