This article was last updated on May 27, 2022
Canada:

Oye! Times readers Get FREE $30 to spend on Amazon, Walmart…
USA:

Oye! Times readers Get FREE $30 to spend on Amazon, Walmart…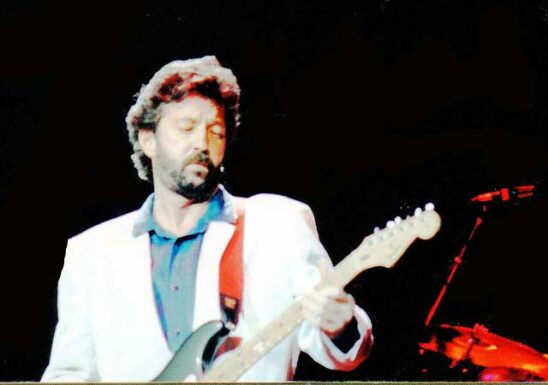 Taking in the career of the top rock guitarist of the past 100 years as he turns 70
By Stephen Pate – Famed guitarist, singer and songwriter Eric Clapton turned 70 on March 30, 2015. I got to thinking about the legacy of the man who inspired the 1967 subway graffiti "Clapton is God".
Crossroads is the one Eric Clapton record – OK box set – that has the rich early heritage of Eric Clapton. From his first recordings with The Yardbirds, John Mayall, Cream, Blind Faith, Delaney and Bonnie, George Harrison, Derek and the Dominoes and onto his solo career. 4 CD's and 73 songs lay out the 25 year span of Eric Clapton's early and mid-career.
You will notice I didn't call Eric Clapton a blues artist because he has long ago transcended the narrow confines of the blues. The label "blues" artist is a confining and artificial construct of white blues fans from the 1960's.

Searching for the pure blues artist is like Indiana Jones looking for the chalice of the lost ark. If it ever existed, there were very few professional singers, assumed to be black, who only sang the blues.
There was no market for someone who only sang the blues. There was a market for artists who could sing blues, country, pop, dance tunes and everything that was popular in the day but that's another argument on its own.
Of course, Eric Clapton's guitar style and deepest motivation is his enthusiasm for American blues artists and Robert Johnson in particular. You can hear Robert Johnson in that soulful, yearning style of Clapton, a style that has only gotten better with the decades.
Clapton said on hearing Robert Johnson in the 1961 release of King of Delta Blues Singers "It came as something of a shock to me that there could be anything that powerful. . . . At first it was almost too painful, but then after about six months I started listening, and then I didn't listen to anything else. Up until the time I was 25, if you didn't know who Robert Johnson was I wouldn't talk to you… It was as if I had been prepared to receive Robert Johnson, almost like a religious experience that started out with hearing Chuck Berry, then at each stage went further and deeper until I was ready for him. . . I have never found anything more deeply soulful than Robert Johnson. His music remains the most powerful cry that I think you can find in the human voice." (Album notes for Robert Johnson: The Complete Recordings)
Did the young Clapton guitar god live up to his fans' expectations or did he digress into the pejorative "slowhand" during the 1970's? Some fans scoffed at his different and non-blues repertoire as selling out.
The only way to tell is with the music. Eric Clapton's recording career spans 22 studio albums and more than 170 other recordings in groups, collaborations, live albums, and soundtracks.

On his birthday last week I was surprised to see how many I have in my collection including videos, CD's and vinyl LP's.
Crossroads is the box set that has the best of Eric Clapton's legacy for the first 3 decades of his career.
If you don't have much Clapton in your collection, Crossroads is a great way to get the best of it for a modest $40. Included with the 4 CD's is an informative 30-page 11×11&Prime booklet with bio, pictures and track information for each song.
Available in the UK from Amazon.co.uk for £22.42 where the booklet is hardbound and Canada from Amazon.ca for $59.32. The UK version is the updated one and the best deal.
Crossroads [Vinyl] is also available on 6 LP's with the 11×11&Prime booklet. Cost for a new vinyl box set is $385 but there are plenty of very good to collectible used copies

from $45 and up.

The Crossroads box set is an excellent way to cover Eric Clapton without owning all 22 studio albums and the live concerts. It's a miracle that Polydor International, who own most of Clapton's middle recordings, got clearances from all the other record labels to make sure none of the classic great performances are missed. The only downside to the box set is it's a lot of music. I can't listen to all 4 CD's one after the other.
The user reviews on Amazon.com and Amazon.co.uk are almost universally 5 stars, except for a few complaints about the sound which I don't get. I've listened to these CDs on studio grade monitors, headphones, home stereo and iPad. The sound is perfectly fine. Turn it up.
This article is getting longish so the follow-up story has a detailed CD review – Eric Clapton The First 25 Years – Crossroads Box Set
Here are some user reviews.
Terrific overview up to 1988 of Slowhand's career – "Although this set doesn't go past 1988 (the year it was released),"Crossroads" includes some of Clapton's best material with the various bands he was a member of (The Yardbirds, John Mayall's Bluesbreakers, Cream, Blind Faith, Derek and the Dominos) and solo. While some of these previously unreleased and rare tracks have since shown up on some other reissues, this is the only place (to date) to find early versions of "Tell the Truth", "Roll It Over" (both produced by Phil Spector and one track featuring George Harrison & Dave Mason on guitar. These were produced during the "All Things Must Pass" sessions)and the tracks from the unfinished second Dominos album."
Great summary of Clapton's Career – "From his days with The Yardbirds until his somewhat recent (1988) solo projects, these four CDs will show you what a great artist Eric Clapton is. This box-set has all of his greatest hits, lots of rare recordings, and first-rate previously unreleased material. Also here you will find the songs that were to be a part of Derek And The Dominos aborted second album, and they show that they were a band who could have gone a long way. You will also hear different versions of some of his hits, like a live version of I Shot The Sheriff, and two versions of After Midnight, one like the original but with horns, and one with a slower rhythm."
Superb box set – "Eric Clapton has been through several different phases musically. He started off at seventeen singing Chuck Berry's "Roll Over, Beethoven" at a nightclub, and didn't even own a guitar of his own at the time (the tougher, slightly older "in-crowd", which included Mick Jagger, Brian Jones and Keith Richards, called him "Plimsolls" because of his habit of shyly looking down at his shoes while he sang).
Then came the British blooze of John Mayall and the Yardbirds, the fiery power-trio Cream, the short-lived Blind Faith, the phenomenal Derek & The Dominoes, and the many solo albums which quickly came to include as much pop, country, reggae and music hall as they did blues.
And it's all here. Every truly essential song Eric Clapton recorded during the 60s, 70s and 80s is here."
Featured image credit – Eric Clapton Princess Trust by badgreeb fattkatt.
Follow Stephen Pate
Twitter – @sdpate
Facebook at NJN Network
Add the NJN icon to your desktop
Subscribe and get new stories by email
By Stephen Pate, NJN Network
You can publish this article on your website as long as you provide a link back to this page.