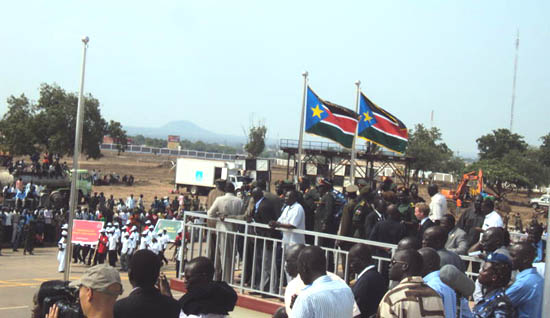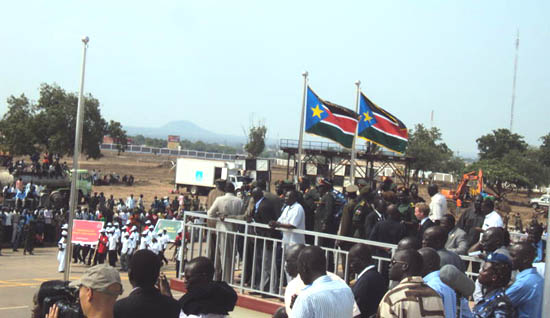 Sudanese President Omar Hassan Al Bashir has been designated by the High Committee of the Government of Southern Sudan, GOSS to be the special guest during the Independence celebrations on Saturday.
Hon. Abdon Agaw, the GOSS Secretary General confirmed to the armed forces, civil society and the media yesterday in Juba during final rehearsals for the Saturday's historic Independence Day.
Over one thousand people gathered yesterday at Dr John Garang Mausoleum, a venue where the celebrations are scheduled to take place for final rehearsals which involved shooting of 21 gun salute.
Citizens expressed excitement over the invitation for the Sudanese President saying it is very important for him to witness South Sudan's new flag raised.
"Yeah! His coming is very important… We don't have any problem with him, it's important for him to witness this historic occasion," said James Chol, one of the South Sudanese citizen during the rehearsal event.
John Andruga was the Sudan People's Liberation Movement, SPLM's Ambassador in Europe for 15 years of service during the civil war and later in Kenya after the signing of the CPA. Currently the civil society activist in the region, when interviewed by Gurtong on Bashir's invitation, he said;
"Their-(NCP and SPLM) role in the implementation of the Comprehensive Peace Agreement, CPA includes smooth transition from referendum to declaration of independence hence the full implementation of the peace accord. So the coming of Bashir should be seen from this context."
"He's not coming here for just a normal ceremony…he is part of the implementation of the CPA, he is expected to receive his country's flag (Republic of the Sudan)." Andruga added.
The SPLM and NCP are the Sudanese political parties signatory to the six year peace deal that brought to an end more than two decades of civil war fought between South and North Sudan.
With the accord elapsing on 9th July, the two parties involved in the process had pledged for its full successful implementation to its later date backed by the international community.
Article viewed at: Oye! Times at www.oyetimes.com