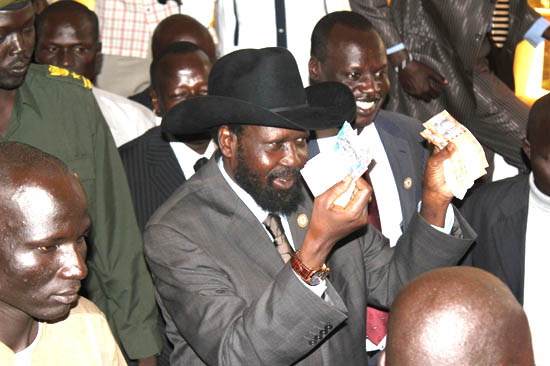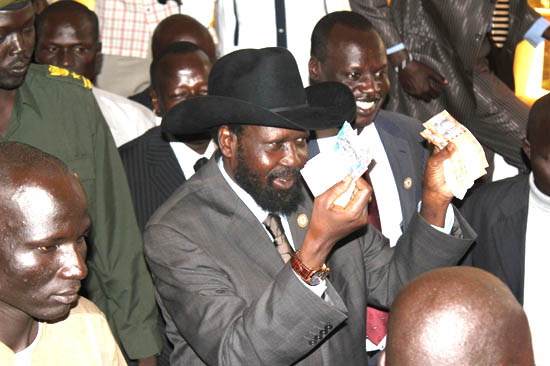 President Salva Kiir has launched the South Sudanese Pounds at the Central Bank of South Sudan, for official usage in the new Republic of South Sudan.
The new currency comes to effect immediately as the President was the first person to exchange his Sudanese Pounds for the new South Sudanese Ponds at the bank in Juba yesterday.
He urged all his Ministers and all the South Sudanese to recognize and use the new pounds as the legal currency for the Republic from the 18th of July. He also called for Southerners banking their money abroad to return and start using the Bank of South Sudan that's currently upgraded into central bank.
"I want to sincerely urge all South Sudanese who have starched their money abroad to bring your money back to this bank," Kiir said, adding that; "I know people have very huge accounts outside the country… You need to repatriate that money."
Hon. Elijah Malok, the Governor of the Central Bank has called for the commitment of the State Governors and policy implementers to cooperate and coordinate with the Bank's Committee designated to ensure the circulation and effective usage of the currency and its implementation in the country.
"I would also like to appeal to our Governors here that, they need to work with the technical committee so that the exchange of the currency kicks off and becomes official," Malok said.
The Central Bank has appointed a committee comprising of officials from the Ministries of Finance, Energy and Mining of the Government of the Republic of South Sudan, and the Bank to mobilize for the usage of the new currency, Malok said.
The bank plans to face out the use of Sudanese Pounds after a period of three months following the circulation of the new currency in the region.
The Sudanese Pounds would have the rate of 1:1 with the new South Sudanese Currency.
Malok disclosed that Khartoum intends to also launch a new currency amidst this week and it will be a danger for South Sudan if authorities do not cooperate in ensuring the implementation and circulation of the new currency effectively.
"The danger stands if we don't change quickly since it's still a legal tender in the North. A lot of money will pour and that can destroy our economy," he clarified.
The currency which contains the head of Dr. John Garang, symbolizes respect to him and for the history of struggle for the people of South Sudan.
The new currency is viewed by Southerners as a positive move towards the economic development of the new nation.
"It marks the completion of the Independent pro-phase for the Republic of South Sudan," Gier Chuang Aluong the GOSS Minister of Internal Affairs commented in an opinion while asked by Gurtong. "It is very important that a nation has its own money," Gier added.
Article viewed at: Oye! Times at www.oyetimes.com