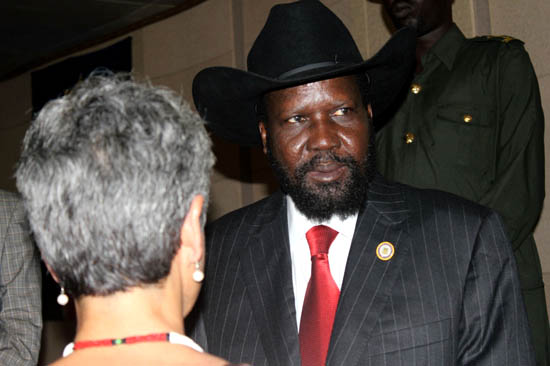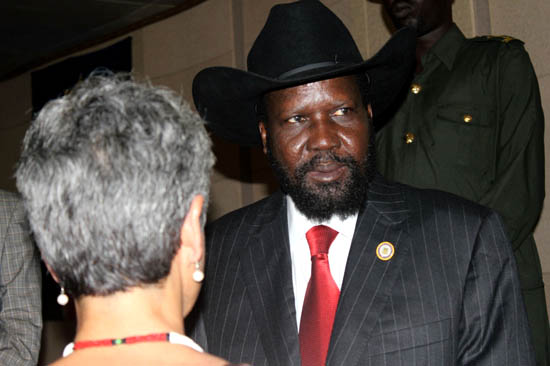 South Sudanese President Salva Kiir has promised to work closely with diplomatic corps in fulfilment of human rights obligations and major humanitarian concerns in his new government as demanded by the international community.
Kiir was yesterday addressing tens of Diplomatic Corps in his Presidential Palace in a first address he was delivering to the representatives of the international community following his swearing in as the first South Sudanese President after Independence.
"On our side we are going to cooperate with you. Am giving you my assurance that this government will cooperate with all Diplomatic corps," Kiir said while addressing the Diplomats at J-One.
"Let us not have any assumption that, the emerging country has no capacity to absorb whatever difficulties that we are facing," he said.
"You will proof me wrong or right. When we go down to work together in sincerity on what we want to do," Kiir added before meeting to address hundreds of civil society activists who visited from the various States in the nation to congratulate him for the successful hard-won Independence.
He said the care taking government of the Republic of South Sudan soon to be dissolved is aware of the acute challenges the region is facing, stressing that, his government will proof the advocates wrong who claimed it will be a failed State.
He did not unveil his priority areas to tackle in the new government to-set to the Ambassadors and Foreign representatives of the various countries in the world though in his speech during the Independence proclamation he hardly stressed on reforms in the public service.
"The priorities of this government will be made public when we complete our policy statement," assured the President.
Kiir denounced differences between South Sudan and the International Groups that would jeopardize relationship and affect development in the new State. He also denounced any differences between his government and the leading ruling party, Sudan People's Liberation Movement, SPLM that would hinder progressive political, social and economic growth of the new nation.
"What matters is that let us open a new page and let us move forward," he said. "We will also address all corners that people have," Kiir added.
In turn, the diplomats expressed interests of commitment to enhance development in the country.
The South Sudanese Minister of Cooperation Deng Alor has announced the governments' pending program to accredit countries who will represent their embassies in the new State.
Article viewed at: Oye! Times at www.oyetimes.com