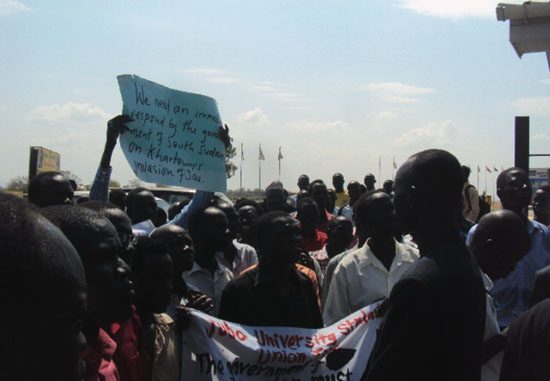 The University of Juba Students last Wednesday took to the streets of Juba City in protest of the recent Sudan's escalating aggression on South Sudan.
The students marched from the main campus to the National Assembly premises then to the United Nations Mission in South Sudan (UNMISS) compound in Juba in order to engage the government and the international community to actively be involved in addressing the issue.
"The Government of South Sudan must respond to Khartoum's decision at our borders. We need an immediate response from the government of South Sudan on Khartoum's invasion of Jaw payam in Unity State. Khartoum must face international justice for violating international borders, sovereignty and territorial integrity of South Sudan." These were some the messages carried by the students on their placards during the protest.
The Deputy Speaker of the National Assembly, Hon. Daniel Awet underscored the student's peaceful protest and urged them to act responsibly as the leaders of tomorrow.
He also urged unity among them because they were young and energetic and could fall prey to manipulators from Sudan.
Awet added that Sudan Armed Forces, (SAF) are forcefully using the South Sudanese youths and mainly the students who are still in the North to be trained to fight their brothers and sisters at home, a decision he said the South leadership has condemned.
"Some of your brothers are still being misused by the same enemy in the North to fight us. They should quietly come back to their parents," Awet urged them.
"Let us all unite and 'dig out' the enemy and expose them to the law. Some of them are even among you," Awet said.
The students' protest came amid worsening insecurity threats imposed on South Sudan by Khartoum last month. Awet said the challenge is currently up to Juba and urged the students to cooperate in combating insecurity not only in the Upper Nile region but also against robbers, thieves and traitors in Juba.