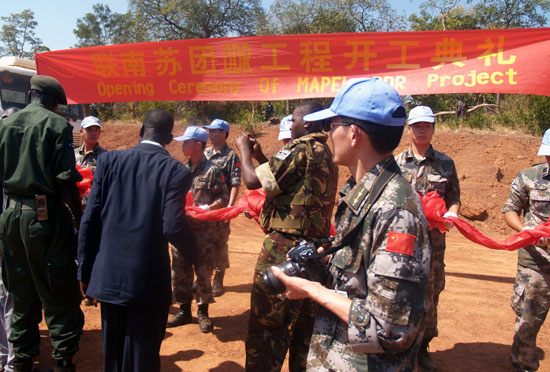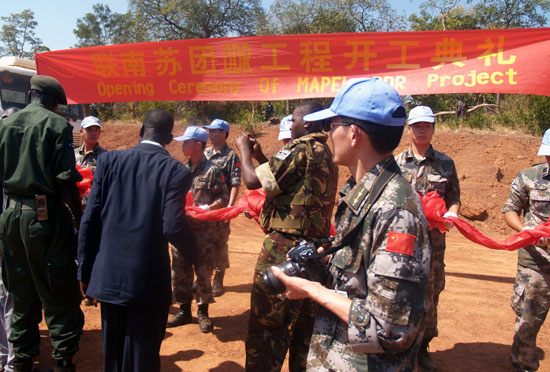 The community of Mapel town in Western Bahr el Ghazal State yesterday witnessed the launching ceremony of the construction of a 10 kilometres feeder road supported by the Chinese contingence of UNMISS.
The road will link Mapel town northwards to the State's highway for the heavy commercial trucks from Tong – Wau to pass.
The ceremony was officially launched in the presence of the UNMISS Sector (II) State coordinator, Mr. Abrahim Ndianye accompanied by the Chinese Contingence Commander, Wang Rui Guxiabin and other UN representatives including the DDR State Director, Mr. Romano Opio Kuot. The delegation was welcomed by the Payam Administrator and the SPLA area second commander, Brig. Gen. Mayar Mayik.
The occasion was graced with entertainment from the colourful tradition dancers from Luo ethnic community while many more traditional chiefs held their peaceful ways of conjuring wisdom since the area will soon develop.
Mapel, the stronghold historical town of the Sudan people's Liberation Movement/Army (SPLM/A) is the main home town of Alur community as well as the training centre of SPLA into modern transformed army is expected to benefit from road infrastructure improvement.
"This is a dynamic and historical occasion that the UN and DDRC has has witnessed today in Mapel town as a first phase of development under the UNIMSS mandate in the Republic of South Sudan particularly in Jur River County of WBGS," Ndianye said.
Ndianye congratulated the efforts made by DDRC in conducting the peaceful disarmament of Ex-combatants and creation of developmental projects to the local community.
Ndianye urged Mapel Local community to give feedback and to work together with the Chinese Contingence constructor in order to successfully improve the road network in the area.
Meanwhile Mr. Wang, the Engineer of the Chinese construction firm urged the gathering to work together with him since they also need to learn some of the experiences from the local community and vice versa.