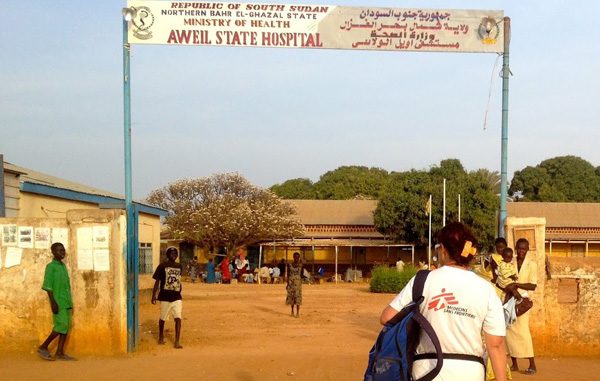 At least 39 Fistula patients are undergoing operations at Aweil Civil Hospital.
AWEIL, 22 April 2017 [Gurtong]-This comes after a mobilization was carried out by the State hospital in mid-March this year. In response, 39 patients out of 150 registered cases have turned up for operations which will take 2-3 weeks.
United Nations Populations Fund (UNFPA) in conjunction with Medicines Sans Frontiers, French (MSF-F) and the State Ministry of Health are jointly carrying out the Fistula operations.
Dr. Saeed Ahmed from Nigeria says they're in Aweil to help patients of Fistula to come back to normalcy in life.
"I am here on behalf of UNFPA to support the operations of Fistula in Aweil, Juba and the other parts of this country as well. And we will be here for the next two weeks. The situation of women here is so pathetic in the sense that we all know that pregnancy is not a disease. So if you're having something that is joyful to the family it should not affect your health but here we have women in the process of their willingness of giving children, they end up with lots of difficulties to the extent they secure this disease with continuous leakage of urine with some social complications." He said.
Dr. Saeed says most of the women with fistula say that they have been isolated by the community because of the disease.
Ms. Teresa Akur Dumo is one of the patients undergoing the treatment of fistula in Aweil Civil Hospital.
She has been suffering from Fistula since 2007 and has since separated from her husband because of her sickness.
"Everyone has abandoned me because of this sickness especially urine leakage. Because I am sick, my husband abandoned me. The rest of the family has rejected me except my mother." She explained.
Luka Lual Aleu Jok, Reproductive Health Coordinator in the State Ministry of Health based in Aweil says the women have endured lots of health complications as a result of the sickness.
He says the operation comes in as a third campaign to eradicate the disease in the country.
"The situation is worse, this is the third campaign. We mobilized 159 mothers. For the last two years 120 mothers have been operated and are back to their normal life and currently we have 39 mothers who are admitted in tents by MSF. Out of these, 11 are operated and 28 are still being operated gradually." He said.
Luka says that their research reveals that 99% of patients with fistula have been divorced by their husbands because of the disease while almost all patients are being abandoned.
Obstetric fistula is a medical condition that occurs when a hole develops between either the rectum or bladder of a female's sexual part. It can happen after lengthy or complicated childbirth, or when adequate medical care is not available.
It usually results in lifelong pain. The condition causes leakage of urine from a female sexual part, passage of gas from the urethra while urinating and frequent urinary tract infections.