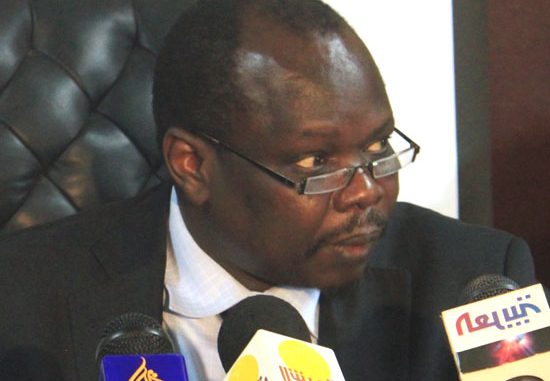 The South Sudan ruling party, Sudan People's Liberation Movement (SPLM) yesterday unveiled plans for the austerity measures that the President had mentioned earlier on to address the country's economic and political crisis following the shutdown of the oil exploration.
The plan was released to the press immediately after SPLM concluded its Political Bureau meeting held for the first time since the country's independence and chaired by President Salva Kiir on Monday.
The SPLM Secretary General Pagan Amum told the press that, the Political Bureau also resolved to reform the party's leadership in an effort to see that the austerity measures are implemented accordingly.
Pagan's briefing coincides with the National Council of Ministers discussion on the party's resolutions as the executive arm of the government of South Sudan to see how the measures will be implemented.
Pagan pointed out that;
"The Political Bureau explored the plans for the construction of pipelines through Kenya and or through Ethiopia and Djibouti for export of South Sudan crude oil to international markets to reduce the risk of dependence on a single outlet.
"The Political Bureau directed the SPLM Secretariat to develop policies aimed at diversifying the economy of South Sudan away from dependency on crude oil export.
These would include but not limited to;
• Utilization of the huge potentials in mineral deposits, livestock, forestry and vast fertile land for agriculture in South Sudan, amongst others;
• Develop of an efficient system for revenue collection and management;
• Development of petro-chemical industry based on processing and refining South Sudan crude oil to create jobs and add value, making South Sudan net exporter of refined petroleum products;
• Development and consolidation of the informal sector of the economy; and encouraging foreign investment into the economic and social sectors in South Sudan."
In an effort to fight insecurity as barring factor to growth and production, the Political Bureau also resolved that, the Government of the Republic of South Sudan, (RSS) initiates a nation-wide conflict resolution, conflict management and reconciliation drive, and to order the simultaneous disarmament of civilian population and curb the spread of small arms in South Sudan.
It also called upon RSS to enhance the capacity of law enforcement agencies to effectively ensure the safety and security of the people in the Country and to create stable, conducive environment for wealth creation by the people of South Sudan and foreign partners.