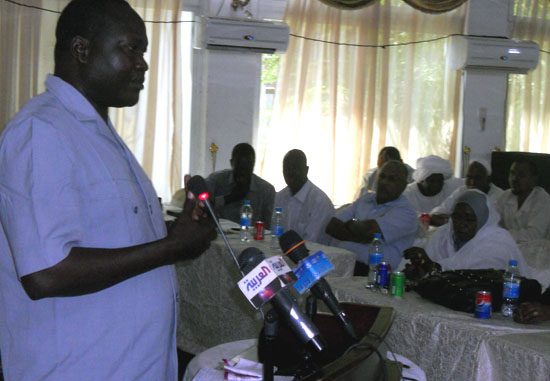 The SPLM Secretary for Political Affairs and Mobilization, Mr. Antipas Nyok Kucha has called upon the Sudanese Traders still in South Sudan to obey the laws of the Country and avoid being used by Khartoum as spies.
"Build schools, homes for yourselves here in South Sudan instead of going to build in Khartoum," Nyok urged the Sudanese business community last Tuesday at the New Sudan Hotel in Juba.
"We do not want anyone of you to be used by NCP (National Congress Party) as a spy, be like any other South Sudanese citizen. Do not use your religion for political purposes but for your faith, we are not against Muslims," he continued.
"We want Islam of peace not of conflict. If there is any way you can communicate to Khartoum and tell them that what they are doing does not help peaceful coexistence between Khartoum and Juba," Mr. Nyok urged them.
The Mayor of Juba City Council, Mohammed El Haj Baballa elaborated that there were rumors going round that Northern traders in South Sudan are being mistreated because of their religion.
"The communities who are said to be mistreated are now part and partial of this country. If it was because of religion, I would not have been the Mayor because am a Muslim, my name is Mohammed El Haj Baballa, where is the discrimination here?" Mayor Baballa wondered.
"Am assuring you as the mayor of Juba City Council, there is nothing against the Muslims and Northerners here in Juba, we called you here to inform you that you will to stay in South Sudan happily and without any problems," the mayor narrated.
"Obey the laws and if you go against the laws, you will face purnishment just it like anybody else. Here Muslims practice their religion openly, their mosques are not closed, nobody has stopped them from praying," the Mayor said .
One of the traders' reprehensive Mr. Mohammed Abduzain told the gathering that the traders appreciated the government's action of talking to them and promising their security and peace.