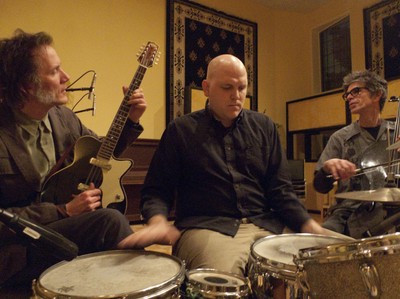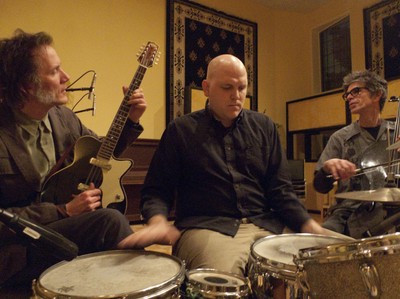 Juno nominated Jesse Stewart is recording with the band formerly known as Tallboys, now known as "Stretch Orchestra" (Kevin Breit, Matt Brubeck) This trio was nominated for a JUNO yesterday in the "Instrumental Album of the Year" category. Kevin, Matt, and Jesse Stewart are all very pleased about this and hope to be performing in the Toronto/Guelph/KW areas very soon.
Another recording that Jesse Stewart performed on came out this week too: The Dunrobin Session featuring Pauline Oliveros on "V-Accordion" and Jesse Stewart on drums and percussion. This CD was just released on the NUUN record label in France. "This recording is very different from Stretch Orchestra," said Jesse Stewart in an email, "but I think it is a special one too. As some of you may know, Pauline is a remarkable composer, improviser, and theorist, and a huge inspiration to me. The release of our duo recording coincides with her 80th birthday this year and with her being awarded the prestigious John Cage award (awarded once every four years, the John Cage award is sort of like the Nobel Prize for contemporary composers). Needless to say, it was a great honour for me to record with her."
If you would like a copy of either the JUNO-nominated
Stretch Orchestra
or
The Dunrobin Session
, email Jesse Stewart at
stewartjesse@hotmail.com
.
Paul Collins, author of Mack Dunstan's Inferno / Mystery of Everyman's Way