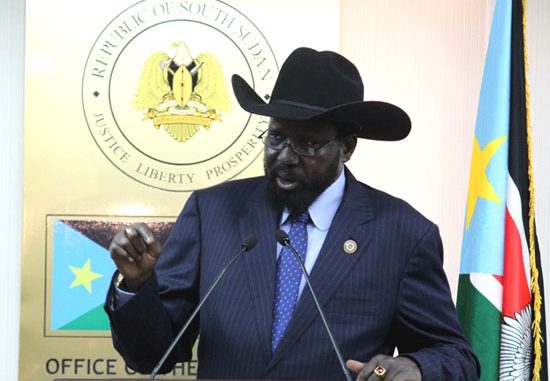 This was revealed to the media at a press conference by the Minister of Information and Broadcasting Dr. Barnaba Marial Benjamin this afternoon.
Marial read a press statement from the President which he said is the position of the government in respect of the international community, the African Union, United Nations and other heads of State who had called for the withdrawal of the SPLA forces.
"In conformity with the United Nations Security Council Presidential Statement and in response to appeals by world leaders and to create an environment for the resumption of Dialogue with Sudan; the Republic of South Sudan announces that the SPLA troops have been ordered to withdraw from Panthou (Heglig)," the statement read.
The withdrawal is said to commence immediately and is expected to be completed within three days.
Juba has however said that the decision to pull from Heglig is without prejudice to their stand that the area remains integral part of the South.
Barnaba stressed that they expect the status of the disputed areas to be immediately referred for international arbitration on the final determination of their status.
South Sudan has also called on Sudan to "desists from air bombardments and ground incursions into the territory of South Sudan.
The statement called on both countries to acquire a greater sense of impartiality in any negotiation that aims to help them resolve their problems.
Nevertheless, he said that a robust international engagement is needed with efforts to promote the peaceful resolutions to end the ongoing conflict between the two neighbouring States.
Dr. Marial said that South Sudan has always obeyed the African Union and the United Nations. He said that this is the second time after pulling from Abyei last year when they were ordered by the United Nations.
He added that they have demonstrated a path of peace and expects their Sudanese counterpart to also do the same.
Over the last days, South Sudan had been giving conditions to be met before withdraw but the UN and other world powers had called for unconditional withdrawal.
Meanwhile the SPLA spokesperson Philip Aguer has said that the army will respect the government's decision but will remain alert incase of attacks from Sudan after the withdrawal.
He confirmed in presence of the different ambassadors that the SPLA will withdraw but will not tolerate any air or ground attacks by Khartoum.