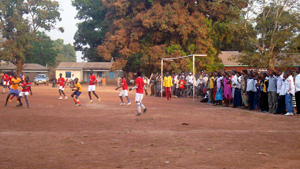 Almost all residents of Ezo County in Western Equatoria State voted for secession of South Sudan in the just-concluded Southern Sudan Referendum.
The Ezo County Commissioner Evans Binzei told Gurtong in the state capital Yambio that the impressive turnout was achieved through intensive mobilisation efforts.
"When I was appointed in June last year, I had two agenda; security and the referendum and I worked hard to ensure that my people voted entirely for separation", Binzei said.
"In my first days, I toured all the six payams besides visiting our people in Khartoum to explain to them the importance of the referendum … because the only option for them was to vote for separation", he added.
Ezo County has been the most hard-hit by the atrocities of the Lord's Resistance Army (LRA) in Western Equatoria State.
The county is host to thousands of Congolese refugees and Internally Displaced Persons (IDPs) and is infested with a myriad of diseases including HIV/AIDS.
"By reflecting on their suffering, my people entirely chose to live in an independent nation to see if the same suffering will persist", said Binzei.
He urged South Sudanese to unite as they start reconstructing their own independent country.
"After separating from the Arabs we now need to remain united as we make our own decisions in terms of development and democracy", he said.