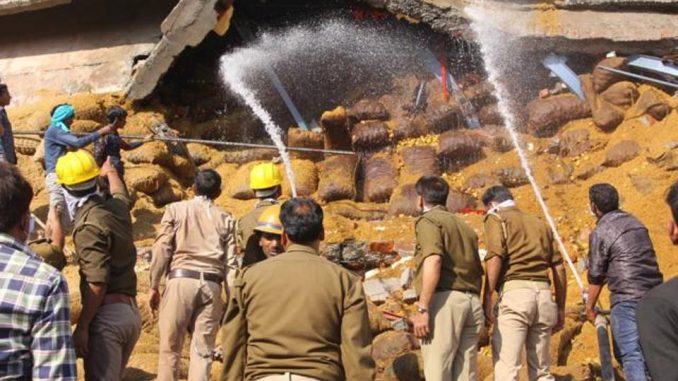 A cold storage building collapse in Shivrajpur area of Kanpur Nagar district in UP has resulted in the death of four and left over 13 others injured. Sources claim that the building collapsed due to a powerful blast triggered apparently by Ammonia gas leakage on Wednesday.
Initial investigation has revealed that the incident took place while it was lunch time for the workers. The ammonia gas leakage made it difficult to breath for those trapped under the rubbles, which further caused irritation in their eyes. Soon after the incident took place, fire tenders from nearby fire stations were summoned and water was used to suppress the effect of ammonia. Additionally, the ambulances from nearby CHCs and private hospitals were also rushed to the scene.
According to the district officials, the building called Katiyar Cold storage collapsed due to Ammonia gas leak in the chiller plant followed by a powerful blast or vice-versa and they are investigating the incident. Chief medical officer, RP Yadav, confirmed that "four persons were killed while around 13 persons, including farmers and cold storage employees, have been rescued from the debris till now. All the injured have been admitted at the Emergency ward of Lala Lajpat Rai hospital, where the doctors stated condition of one of the labourer identified as Manish, who hails from Begusarai area of Bihar, to be critical. He along with two others including one Gorey Lal and latter's 23-year-old son Ranjeet, were the first to reach Lala Lajpat Rai hospital."


Loading ...