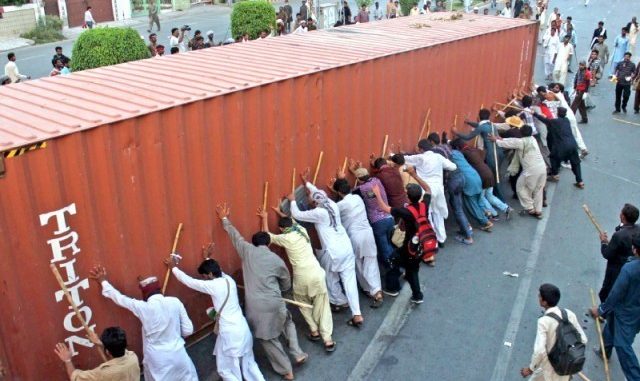 This Friday, clashes erupted all over Punjab as the Punjab government imposed barriers and containers all over the province to stop Pakistan Awami Tehreek (PAT) supporters to come to Lahore on the call of their chief Dr. Tahirul Qadri to pay a tribute to the innocent killed on July 17th and the soldiers killed in the fight with the terrorists in North Waziristan. The Punjab Chief Minister has ordered the arrest of PAT workers as well as the using tear gas to disperse them. Due to container barriers, there is a lack of food and water in Model Town Lahore.

As the workers tried to remove the containers on roads blocking the way to Mihajul Quran office the police used the resort of tear-gas shelling and baton-charge to disperse the PAT workers. Dozens of PAT workers were also arrested and sent to lock-ups, while dozens of policemen and PAT activists received injuries in a clash in Faisal Town. PAT workers hit the policemen with batons and threw back tear gas shells at them. Four policemen received injuries during a clash with the PAT activists.

This Saturday Dr Tahirul Qadri added that twenty one supporters of PAT have been killed and hundreds have been injured but are not being offered treatment by any hospitals nearby due to instructions of the Punjab Police. Hundreds of busses have been stopped all over Punjab to reach Lahore. He added that this is no democracy in Pakistan where police is being used as personal servants of the Prime Minister and the Chief Minister of Pakistan.