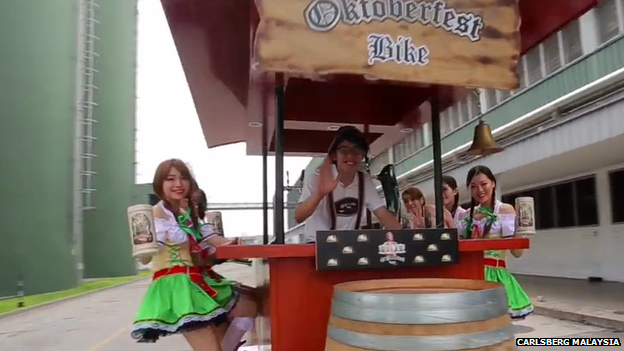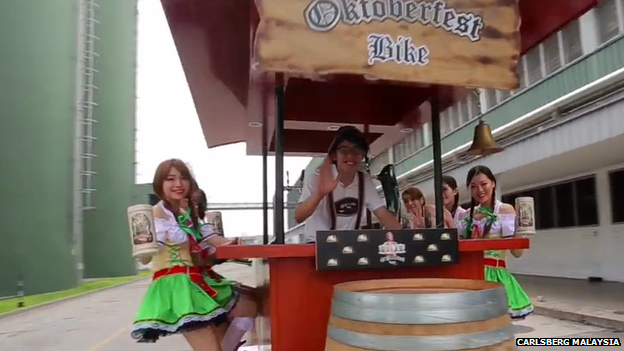 Controversy has surrounded the concept of German festival being celebrated in Malaysia as some Muslim groups demanded the ban of Oktoberfest on the grounds that the festival appears offensive to the community and promotes alcohol consumption. An MP is heading a campaign to get the federal and state governments to halt the annual beer festival, which he describes as part of a culture of "evil and sin", Malaysia's Daily Express newspaper reports. Nasrudin Hassan of the Pan-Islamic Party says that it "should be done privately and neither promoted nor feted any further in this way" adding that he does not want non-Muslims to give up their right of drinking. In a Facebook post, he compared the event to "mass-promoted adultery".

According to BBC News, apart from issues surrounding alcohol, one of the major bones of contention appears to be a publicity poster for the Carlsberg Malaysia-backed festival, showing a waitress in a low-cut German costume carrying six steins of beer. Publicity stunts leading up to the festival also featured Malaysian women in similarly low-cut mini-dresses in company colours.

Backing the argument that the event should be banned is law professor Datin Noor Aziah Mohd Awal, who claims that the festival is "unconstitutional" as events with alcohol cannot be organized in open spaces, the Malay Mail reports.