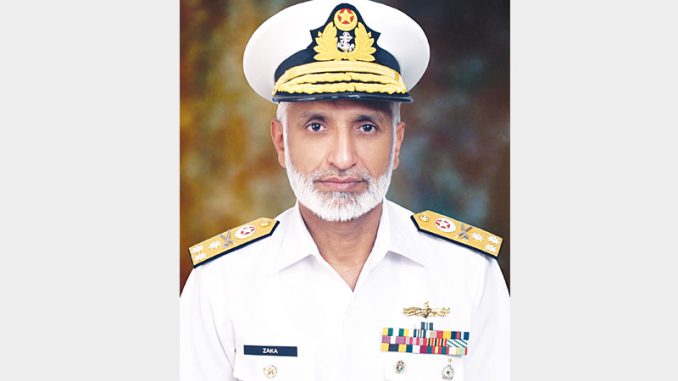 Admiral Muhammad Zakaullah this Tuesday assumed the command of the Pakistan Navy at a grand ceremony held at PNS Zafar located at the Naval Headquarters in Islamabad. Admiral Zakuallah's predecessor Admiral Asif Sandila handed over the command of the Pakistan Navy to him in the ceremony.

The outgoing naval chief, Admiral Asif Sandila, addressed the gathering at the change of command ceremony and said "Pakistan Navy is safeguarding the sea frontiers of Pakistan despite limited resources; it has proved to be an effective arm of defence of Pakistan." He further wished success for Admiral Zakaullah.Senior Defence officials and former naval chiefs also attended the ceremony according to Dawn News. On the 2nd of October, President Mamnoon Hussain had promoted the Vice Admiral Zakaullah to the rank of Admiral and appointed him as the next Chief of Pakistan Navy on the advice of Prime Minister Nawaz Sharif.

"The President of Pakistan has been pleased to appoint Vice Admiral Mohammad Zakaullah as Chief of the Naval Staff and promoted him to the rank of Admiral," was a statement issued by the Pakistan Navy. The practice of appointing naval chiefs from amongst the Vice Admirals has been scrupulously followed by all governments.