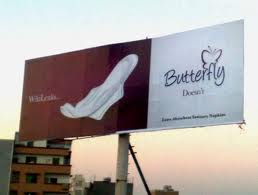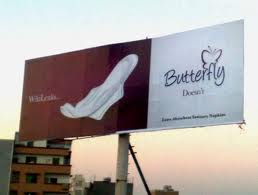 Advertising has long used humour to capture the attention of potential buyers and the entire scandal surrounding the publishing of secret U.S. diplomatic cables has now been put to good use. AFP has filed a story from Karachi saying that the feminine hygiene business has managed to harness
the political notoriety of WikiLeaks to tell women that while the US State Department might leak, they don't have to.
Apparently selected billboards in Pakistan's financial capital Karachi are showing the latest catchphrase: "WikiLeaks… Butterfly doesn't".
As everybody knows – unless you've been living on the moon – WikiLeaks has become something of an international household name thanks to its publication of various secret documents of the U.S. government which expose the inner workings of its diplomatic corps around the world. This is a terrific example of how a current event, well know by the public, can be made us of to further the cause of commercialism.

According to reports, politics is usually something avoided by Pakistani advertisers however in this case, somebody felt it was appropriate and considering that the campaign has attracted a lot of attention that decision seems to have been a good one.
AFP spoke with the company, RG Blue Communications which pitched the advertisement to manufacturers Butterfly. They said they wanted to do something different, not the usual ad of a girl promoting a sanitary pad and from the response, they have succeeded. The only question is why this ad campaign hasn't made it to other places on the globe. Will we see this in North America? In downtown Toronto?
Click HERE to read more from William Belle