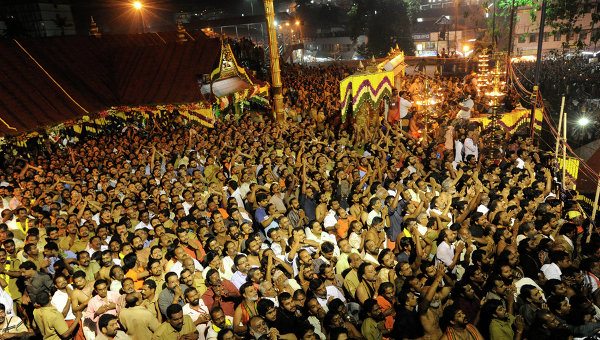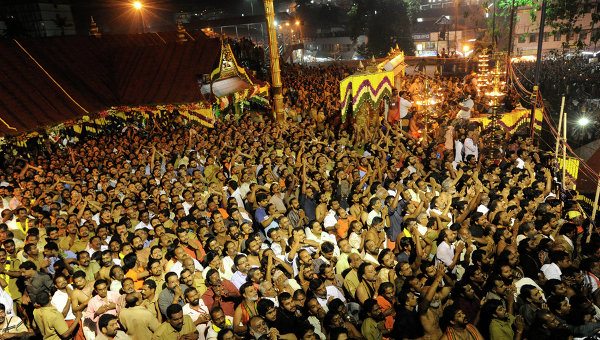 A religious festival in the southern Indian state of Kerala was marred by tragedy when a stampede resulted in the death of 64 to nearly 100 pilgrims. Reports are differing on the exact number. This apparently happened on Friday at around 20:00 local time (1630 GMT) in a remote mountainous area during a pilgrimage to the Hindu shrine of Sabarimala.
The precise cause of the stampede is still unclear but early reports are saying that a vehicle, possibly a jeep or a bus crashed into the crowd. People became frightened and in the ensuing panic, many tried to either get out of the way or just escape and a number were trampled to death. This happened at Pulmedu, near the town of Vandiperiyar in Idukki district
It is customary for this pilgrimage that one set off on foot for the Sabarimala temple. Hundreds of thousands of men and women do so each carrying a cloth bundle containing traditional offerings. But many of the elderly, or those short of time, who cannot make the journey on foot, choose to cram into overloaded buses and jeeps in order to get as close as possible to the temple. Unfortunately the situation makes for large numbers of people and vehicles both sharing the routes increasing the chances of accidents.
Some news outlets have mentioned that stampedes at public events in India seem to be common. Large numbers of people crowd into congested areas; panic can spread quickly and, with surging crowds and few safety regulations in place, the results can often be deadly.
Police in the northern state of Uttar Pradesh put the blame on lax safety in March 2010 for the deaths of 63 people — all of them women and children — in a stampede outside another Hindu temple.
At least another 10 people died in a similar stampede near a temple in the state of Bihar in October.
Click
HERE
to read more from William Belle.
References
Sabarimala is a Hindu pilgrimage center located in the Western Ghat mountain ranges of Pathanamthitta District in Kerala. Sabarimala is believed to be the place where Ayyappan meditated after killing the powerful demoness, Mahishi. Lord Ayyappan's temple is situated here amidst 18 hills. The temple is situated on a hilltop at an altitude of 468 m above mean sea level, and is surrounded by mountains and dense forests. Temples exist in each of the hills surrounding Sabarimala. While functional and intact temples exist at many places in the surrounding areas like Nilackal, Kalaketi, and Karimala, remnants of old temples survive to this day on remaining hills.