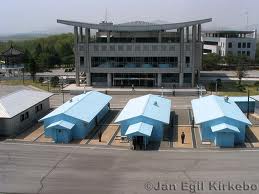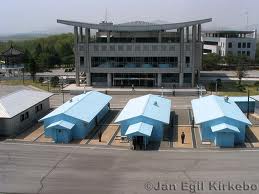 Tuesday saw military representatives from the two sides engaged in talks at Panmunjom, the first such encounter since the shelling of a South Korean island by North Korea this past November. The two sides have agreed to continue talks on Wednesday. There are hopes this could spell the easing of tensions between the two countries after last year's disastrous clashes. As well as the shelling of the island, North Korea stands accused of torpedoing and sinking a South Korean military vessel in March 2010 which resulted in the death of 46 sailors.
The first day of preliminary talks were held in a building known as "Peace House," in the demilitarized zone. According to defence officials, the talks spanned more than nine hours, including several breaks. A South Korean military spokesman has reported that the two sides are trying to narrow differences on the agenda and procedural matters which will eventually lead to an agreement on holding talks between higher-level officials.
South Korea has apparently set some stiff pre-conditions for any sort of dialogue with the North demanding apologies for last year's lethal provocations. So far, these talks have seen
South Korean media reports say Pyongyang offered no apology, as demanded by Seoul, for last November's shelling, nor did it take responsibility for the sinking of a South Korean warship in the Yellow Sea, 10 months ago. Instead, the North Korean officers are insisting on a broader discussion at higher-level talks to ease military tensions.
South Korean officials say apologies for last year's lethal provocations are pre-conditions to arranging those more senior discussions.
France24 English – Feb 8/2011
Koreas: Talks for first time since North's bombardment
Koreas: Talks for first time since North's bombardment
Military officers from North and South Korea held talks Tuesday at the frontier between the two states for the first time since the North's deadly shelling of a South Korean island last November.
Click
HERE
to read more from William Belle.
Article viewed at: Oye! Times at www.oyetimes.com