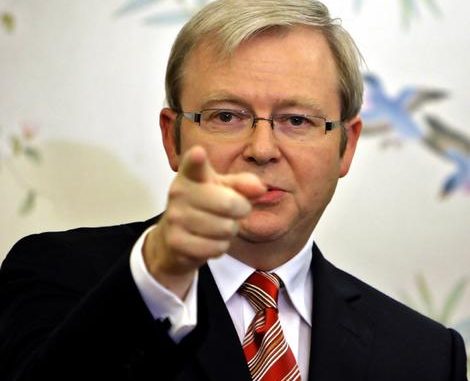 This article was last updated on April 16, 2022

Prime Minister Kevin Rudd has challenged Tony Abbott to debate with him on the issues of debt and deficit, asylum policy and carbon policy. He questioned whether the Leader of the Opposition had the 'ticker' to debate with him on key policy areas.
"I think it is time he demonstrated to the country he had a bit of ticker on this, I mean he is the boxing blue, I am the glasses-wearing kid in the library, come on, let us have the Australian people form a view about whether his policies actually have substance… or whether they are just slogans," PM Rudd said.
He added: "He [Abbott] has campaigned continuously on debt and deficit and the fact that the sky will fall in, he has campaigned continuously on asylum policy and campaigned continuously on the carbon price… it is time we had a properly moderated debate on his chosen subjects."
The word 'ticker' rings a bell as it has been used quite a few times by the politicians of Australia. Former Prime Minister John Howard was once quoted saying that former Labor leader Kim Beazley did not have the ticker to become the premier.
"One of the advantages of being prime minister is you have advice from a whole bunch of officials… who are dealing with these folks on the ground and looking at the intelligence… I am simply responding to the advice from officials," he added.
You can publish this article on your website as long as you provide a link back to this page.