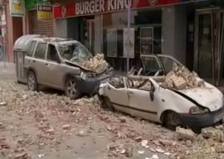 This article was last updated on April 16, 2022
Canada:

Oye! Times readers Get FREE $30 to spend on Amazon, Walmart…
USA:

Oye! Times readers Get FREE $30 to spend on Amazon, Walmart…

Two earthquakes registering 4.4 and 5.1 killed nine people and caused extensive damage in the Murcia region of southeastern Spain.
On May 11, 2011 at 6:47pm local time, a 5.1 earthquake struck the region of Murcia in Spain. This was preceded by a lesser 4.4 quake. Nine people are confirmed dead and with 293 reported injured.
Localized mainly in the city of Lorca, the shaking sent brick building facades and parts of terraces plunging into the streets. Hundreds of apartment buildings were damaged as well as cars parked in the streets below. Local officials estimated that 30,000 people spent the night outdoors after the quake, nearly a third of the city's population of 90,000. This is apparently the worst quake in the region since 1956.
Experts attribute the magnitude of the destruction to two factors. First the epicentre was just on the outskirts of Lorca, and secondly, the quake happened at a shallow depth of one kilometre (0.6 miles) below ground. The shallow depth of the quake in Japan was given as the explanation of why that quake caused so much damage and unleashed such a tsunami.
Associated Press in the France24 news service described the city as looking like a war zone with cars crushed by rubble and building scarred with cracks. People returned home on Thursday, but some had no idea of when they would be able to move back in. The city of Lorca did put earthquake-resistance measures into its building codes in the 1960s, but the town has many older structures which remain vulnerable to quakes.
The Spanish government has activated its Military Emergencies Unit, a branch of the Spanish Armed Forces, responsible for providing disaster relief. 340 soldiers were dispatched to the region.
Associated Press – May 12/2011
Fearful Spaniards Flee Quake-hit City
With tens of thousands left homeless and fearful by earthquakes that rocked the Spanish city of Lorca Wednesday, many have decided to flee. Authorities said at least 9 people died in the worst temblor to hit Spain in more than 50 years.
ITN News – May 11/2011
Earthquake hits southern Spain
At least ten people have been killed in southeast Spain after two earthquakes struck the region in quick succession.
http://www.youtube.com/watch?v=-fazIxIAjzI
Russia Today – May 11/2011
Spain quake: Bell tower crashes down on live TV, close shave for reporter
Two earthquakes struck southeast Spain in quick succession on Wednesday, killing at least 10 people, injuring dozens and causing major damage to buildings. The epicentre of the quakes – with magnitudes of 4.4 and 5.2 – was close to the town of Lorca in the Murcia region of south eastern Spain. Large chunks of stone and brick fell from the facade of a church in Lorca as a reporter for Spanish state TV was broadcasting live from the scene. A large church bell was also among the rubble, which missed striking the reporter, who appeared to be about 30 feet (9 meters) away when it fell. The broadcaster reported that schoolchildren usually gather at that spot around that time, and if it had happened 10 minutes later, a "tragedy" could have occurred.
References
Wikipeida: 2011 Lorca earthquake
http://en.wikipedia.org/wiki/2011_Lorca_earthquake
The 2011 Lorca earthquake was a moderate magnitude 5.1 Mw earthquake that caused localized significant damage in the Region of Murcia, Spain. Centered at a depth of 1 km (0.6 mi) near the town of Lorca, it occurred in a populated area at 18:47 local time (16:47 UTC) on 11 May 2011, causing panic among locals and displacing many. The quake was preceded by a magnitude 4.4 (Mw) foreshock, and further inflicted copious damage to several old structures in the area. The Espolón Tower of the Lorca Castle was damaged. Three people were killed by a falling cornice. A total of nine deaths have been confirmed, while dozens are reported injured. The earthquake was reported to be the worst to hit the region since 1956.
Wikipeida: Lorca
http://en.wikipedia.org/wiki/Lorca
Lorca is a town in southeast Spain, in the autonomous community of Murcia and 36 miles SW of the city of Murcia. It has a population of 90,924 (year 2008), up from the 2001 census total of 77,477. Lorca is the municipality with the second-largest surface area (after Cáceres) in Spain with 1,675.21 km² (646.8 sq mi).
El Mundo – May 12/2011
Ascienden a nueve los muertos por el terremoto
Las víctimas mortales por el terremoto que el miércoles sacudió el municipio de Lorca ascienden a nueve tras fallecer uno de los heridos graves, según ha informado la consejera de Sanidad, María Ángeles Palacios . Hasta 293 personas han sufrido heridas, tres de ellas de gravedad. Fuentes oficiales informan de que no hay ninguna denuncia por desaparición.
Click HERE to read more from William Belle
Article viewed at: Oye! Times at www.oyetimes.com
You can publish this article on your website as long as you provide a link back to this page.