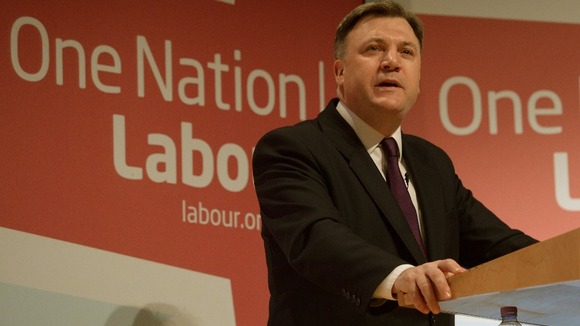 This article was last updated on April 16, 2022
Canada:

Oye! Times readers Get FREE $30 to spend on Amazon, Walmart…
USA:

Oye! Times readers Get FREE $30 to spend on Amazon, Walmart…

Shadow Chancellor Ed Balls pledges to re-introduce a 50p top tax rate in pound for the elite individuals who earn £150,000 or more annually to cut the deficit if the Labour party comes into government after general election 2015.
In an attempt to regain the ground on the economy, the Labour are demonstrating their fiscal discipline following favorable growth estimations by the Coalition government.
Mr. Balls has said at the Fabian conference on Saturday that the plan is in fact to restore an old Labour policy which was ended by the Conservatives, and would raise £10bn over a Parliament.
In March 2012, George Osborne reduced the highest rate of tax to 45p in the pound. At the time, Osborne had claimed that the Labour policy had raised only £1bn or so extra which was less than what Labour estimated.
Mr. Balls has expressed his doubts regarding the disclosed figure and said: "The latest figures show that those earning over £150,000 paid almost £10bn more in tax in the three years when the 50p top rate of tax was in place than when the government conducted its assessment of the tax back in 2012."
The shadow chancellor has also said cutting taxes for the richest was not fair with the poor at a tough time of economic recovery.
Mr. Balls has told: "And when the deficit is still high, when tough times are now set to last well into the next parliament, when for ordinary families their real incomes are falling and taxes have risen, it cannot be right for David Cameron and George Osborne to have chosen to give the richest people in the country a huge tax cut."
"For the next parliament, we will restore the 50p top rate of tax for those earning over £150,000.
"Reversing this unfair tax cut for the richest 1 percent of people in the country. And cutting the deficit in a fairer way."
The shadow chancellor has vowed that Labour government would erase the deficit by 2020 by balancing the books, with a budget surplus guarantee for Britain at the end of a new Labour parliament.
Meanwhile, the Conservatives claim that Labour has got no proper economic plan as their spokesperson has said: "All Ed Miliband and Ed Balls offer is more spending, more borrowing and more taxes.
"It's the same old Labour – and hardworking people and their families would pay the price with a less financially secure future."
Article viewed on Oye! Times at www.oyetimes.com.