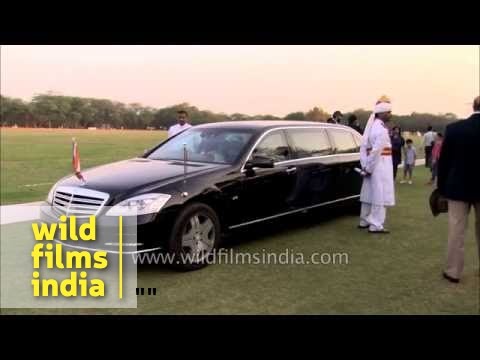 I rarely quote from other media sources, however, given that Valdimir Putin will be spending substantial time in the spotlight over the coming weeks since the Sochi Olympics is largely his, I'll make an exception.
"As for my personal perception, I am not ashamed before the citizens who voted for me. All these eight years I worked like a galley slave, to spare no effort. I am happy with the results"
Please note that the pamphlet in the link above is in Russian, however, you can use Google Translate to get an English language version. As well, I am using the conversion rate of 35 rubles to the United States dollar throughout this posting.
The pamphlet outlines the perquisites available to Putin as Russia's ruler. Let's look at the residences that are available to him, the fleet of aircraft that are at his disposal, the yachts that have been purchased for his use, the fleet of limousines and the other miscellaneous items, particularly wrist watches, that have become part of his legacy. To put all of this into perspective, Putin's official income declaration for 2012 was 3,661,765 rubles or $104,621. The budget for the Office of President in 2011 was 84.6 billion rubles or $2.417 billion.
Let's dig in.
1.) Palaces: President Putin has 20 palaces, villas and residences at his disposal. Here are some examples with photographs:
a.) Bocharov Stream (Sochi): This beachfront two story palace has a helipad, fresh and salt water pools and a yacht berth:
b.) Constantine Palace (near St. Petersburg): This complex contains more than 40 buildings and is located on 140 hectares. The palace was reconstructed for the 300th Anniversary of St. Petersburg in 2003:
c.) Sevastianova House (Ekaterinburg): This 19th century palace was reconstructed in 2008 at a cost of 1.35 billion rubles or $38.6 million:
d.) Barvikha (near Moscow): This Presidential health resort was completed in 1935 and provides high quality medical services to leading government officials including the President. It covers 86 hectares and was reconstructed in 2011 at a cost of 162 million rubles or $4.63 million including 30.8 million rubles or $880,000 for new furniture:
2.) Air Fleet: President Putin has at his disposal 43 fixed wing aircraft and 15 helicopters including the following:
a.) IL-96-300PU: Five of these aircraft are available at a cost of $40 million plus $18 million on accessories, including a $75,000 toilet. Here are some photos from the interior of RA-96016 and RA-96012:
b.) Airbus 319 Corporate Jet: This $105 million plane, designed for 19 passengers, has a meeting room for 6 people, a private zone with two chairs, a sofa and double bed and a private shower and toilet. Decor includes the use of marble, leather and hand woven carpets:
c.) Dessault Falcon 7X: President Putin has two of these $50 million aircraft at his disposal. These aircraft are designed for 19 passengers and 3 crew members and are equipped with satellite communications, internet access, LCD monitors and DVD and CD players.
The total cost of the Presidential air fleet is estimated to be around $1 billion.
3.) Yachts: The Presidential flotilla consists of four luxury yachts with a total cost of around $100 million dollars. Here are two examples:
a.) Cirius: This executive yacht was purchased in 2011. It is 53.7 metres long and was designed for 11 guests and 12 crew members. There are 6 VIP cabins, a spa pool with waterfall and a wine cellar. Annual maintenance costs are estimated to be around 124 million rubles or $3.54 million:
Putin states that the vehicle was "…a really good car. I didn't expect it to be this good. It's quiet, fairly powerful for its size and weight and very comfortable. It has everything; air conditioning, airbags and low petrol consumption." The top end Lada Niva wagon retails for 452,000 rubles or $12,900. He also owns a 1956 Volga GAZ-21 and a Niva off-road vehicle, both made in Russia.
When President Putin isn't driving his modest Russian-made vehicles, here's what gets him from point A to point B:
a.) Mercedes-Benz S 600 Guard Pullman: This 21 foot long stretched armoured vehicle is equipped with a 5.5 litre twin-turbo V12 that produces 510 horsepower. It is equipped with two tone leather, holders with crystal glasses and monitors with touch controls. Oh, and it cost $1.625 million. Here is a video showing the same model used by the President of India:
b.) Mercedes-Benz Gelandewagen: This particular G-Class mid-size four-wheel drive model cost $434,000.
That was a Blancpain Aqualung, worth $10,500 that he threw into the concrete. This is the same model of watch that he gave to the son of a shepherd and a locksmith.
Apparently, now we have some idea about Vladimir Putin's motivation for wanting a second term as Russia's President, don't we? It's a pretty good gig if you can get it. It kind of makes President Obama's perquisites look positively peasant-like by comparison, doesn't it? Now who's the Galley Slave?