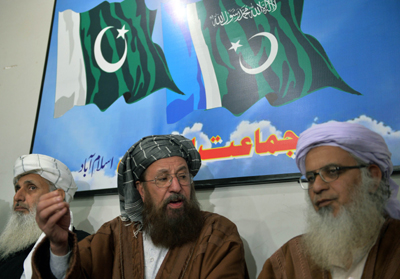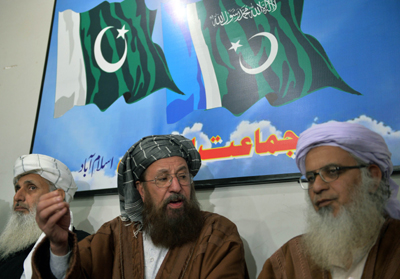 Pakistan and Taliban meet for their first meeting in Islamabad this Thursday to find a solution to the bloody insurgency started by the Taliban seven years ago. 'The government peace talks committee will negotiate with Tehreek-e-Taliban Pakistan (TTP) with an open mind,' said Irfan Siddiqui, the coordinator of the government's four-member committee. The state negotiators met today in Islamabad to decide how to begin and take the dialogue process forward. The government committee is scheduled to meet the TTP intermediaries at a location still kept disclosed. The TTP committee and government negotiators were scheduled to start talks on February 4th but the government officials wanted to make sure the TTP committee had full control over the decisions of the Taliban.

The Jamiat Ulema Islam-Samiul Haq group (JUI-S) chief Maulana Samiul Haq, being a part of the TTP committee, contacted Interior Minister Chaudhry Nisar Ali Khan today. Nisar assured the JUI-S chief that the government will not tolerate any further hurdle in beginning the peace talks and that not only the Pakistani government but the whole nation of Pakistan supports the peace talks and wants them to start as soon as possible to bring the blood shed to an end.

The four-member committee appointed by the government comprises of the adviser to the Prime Minister on National Affairs Irfan Siddiqui, former ISI official Major (r) Muhammad Amir, senior journalist Rahimullah Yousufzai as well as Pakistan Tehreek-e-Insaf leader and former Pakistan ambassador to Afghanistan Rustam Shah Mohmand. The three-member committee named by the TTP includes Jamaat-e-Islami leader Prof Mohammad Ibrahim, JUI-S chief Maulana Samiul Haq and Lal Masjid prayer leader Maulana Abdul Aziz.