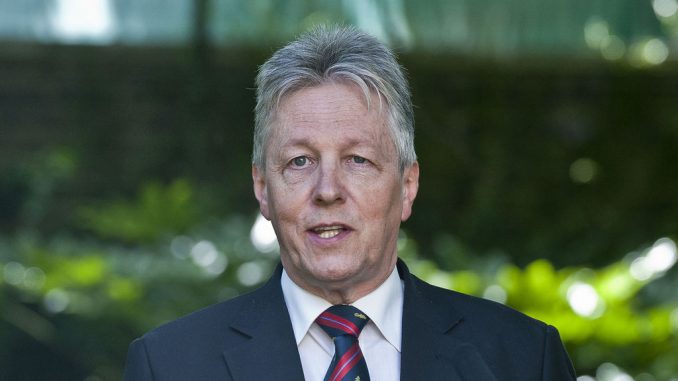 Northern Ireland's first minister Peter Robinson threatens to resign unless a judicial inquiry would be called into the collapse of a trial of a suspected IRA Hyde Park bomber.
The leader of the loyalist DUP Mr Robinson has told on Wednesday that he would step down after the accused John Downey walked free this week following the mistaken guarantee in 2007 of not being prosecuted in the criminal court during the Northern Ireland peace process.
Mr Robinson has said: "I am not prepared to be kept in the dark by her majesty's government about matters relevant to Northern Ireland.
"I want a full judicial inquiry to find out who knew, when they knew and what they knew. I want to know who they are and what crimes they are believed to have committed."
While the former IRA member Mr Downey had denied any involvement in the Hyde Park car bombing incident in July 1982 which resulted in the death of four soldiers and seven horses from the Household Cavalry, as well as injuring various people.
It has been emerged that secret letters were dispatched to more than 180 Irish republican paramilitary suspects as a part of the 1998 Good Friday agreement that ended decades of sectarian violence in Northern Ireland.
Mr Robinson has told the British government had not informed him regarding the issuance of secret amnesty letters given to fugitive. He has now called for all letters sent out to be withdrawn and demanded "full disclosure" of what had happened.
The NI first minister has also claimed that the DUP would never have entered into a power-sharing agreement in 2007 with Sinn Féin, its arch-enemy, if it had known about the letters.
He has said: "I am not prepared to be a stooge for Westminster who keep secrets on matters which are now devolved to Northern Ireland."
Meanwhile, British Prime Minister David Cameron has told parliament it was "absolutely shocking" that a "despicable mistake" meant Downey would not be prosecuted for a serious crime.
Mr Cameron has said: "It was a dreadful mistake and a mistake that we now need to have a rapid factual review to make sure this cannot happen again."
Article viewed on Oye! Times at www.oyetimes.com.