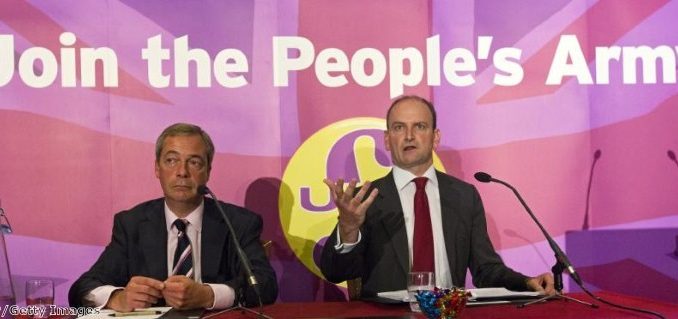 A Conservative Party lawmaker Douglas Carswell has announced his defection to the Eurosceptic U.K. Independence Party, forcing a special election and suffering a blow to Prime Minister David Cameron's Tory party.
Douglas Carswell, a prominent and respected Eurosceptic, will stand down as MP for Clacton in Essex and fight a by-election as the Ukip candidate.
His defection remained a secret until he made it public in a surprise press conference with Ukip leader Nigel Farage at Westminster on Thursday. He has told his position in the Conservative Party was "untenable" and that, while he could "muddle through" as a Ukip MP until next May's general election, he had decided to ask his constituents to join his crusade.
Mr Carswell has said: "It's not enough that I leave the Conservative Party and join Ukip. I will now resign from parliament and stand for Ukip in the by-election that must follow."
He has added: "Things don't have to be this way. I will be asking voters in Essex to help me change them. The Conservative leadership are not serious about change. If I believed they were sincere about real change, I wouldn't be here."
The Leader of the Commons, William Hague has claimed the action of Tory lawmaker being wrong and said: "It's a totally counterproductive thing to do, of course, because the only chance of real change in Europe, the only chance of having a referendum where people can decide to say in the EU or leave the EU is having a Conservative government."
But Mr Carswell has accused the Tory leader of misleading voters about his promises to claw back more powers from Brussels ahead of a European Union referendum on Britain's membership, which will be held in case the Tories win general election 2015.
He has also revealed that the PM advisers had told him that U.K. people will not vote in support of leaving EU in the event of a referendum, because "we will give them (the voters) just enough to persuade them not to".
Carswell was initially elected in 2005 in nearby Harwichand since then he has earned a reputation as a staunch Eurosceptic and radical libertarian.
He was also involved in the successful attempt to remove Michael Martin as speaker of the House of Commons following the shocking expenses scandal in 2009.
Article viewed on Oye! Times at www.oyetimes.com.