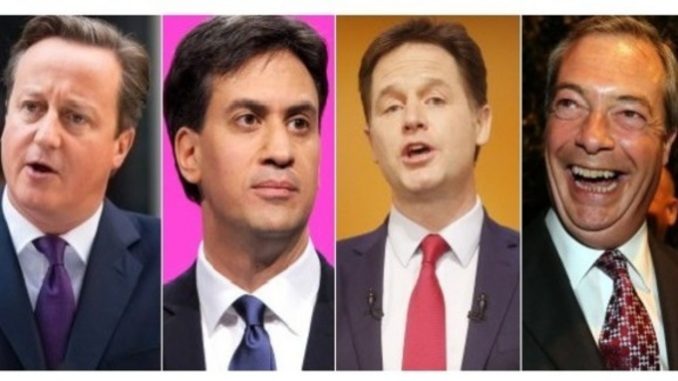 This article was last updated on April 16, 2022

British broadcasters have submitted their proposals to hold leaders' pre-election live television debates on Monday from the three main parties of the country including Nigel Farage.
The televised debates are scheduled before general election 2015. One will feature the yhead-to-head clash between the Prime Minister David Cameron and Labour leader Ed Miliband; another debate will also include Liberal Democrat leader Nick Clegg; and a third will feature U.K. Independence Party leader Mr Farage joing all the three leaders.
The broadcasters including BBC, ITV, Sky and Channel 4, have sent the proposals in letters to the political parties and said that the format of the debates has been selected to reflect the changes in the political landscape.
The proposed plans still need to be approved by all the participating parties, with the likeliness of weeks of negotiations.
The UKIP leader has welcomed the TV debates and said: "The decision is better than it could have been. It does at least recognise the increasing popularity of Ukip.
"However, if the political landscape continues to change we would expect and ask for inclusion in a second debate."
While Mr Cameron has asked over the inclusion of UKIP as he said: "If you have one person, then the Greens have an MP as well, so you have to think these things through.
"It's an interesting proposal. None of us had seen it beforehand. I'm sure we'll study it and I'm sure there will be other proposals along before long.
"I've always been in favour of TV debates. I'm in favour of TV debates, but you've got to make sure you come up with a proposal that everyone can agree to, and I can't see how you can have one party in that has an MP in Parliament, and not another party."
The statement came after only Mr Farage has been included in the planed televised debates when both the Green Party and UKIP have one MP in Westminster.
But Mr Miliband has said: "I hope David Cameron is not going to put up false obstacles to these TV debates happening.
"He should be saying they will happen, they must happen during the campaign. For my part, I'm going to make sure they do."
Meanwhile, the Lib Dems have also insisted in a statement to be included in all three debates, as they were four years ago: "We do not accept the proposal that the Liberal Democrats, as a party of government, should be prevented from defending our record in one of the TV debates."
The country had seen its first such debate ahead of the last general election 2010, that led to attract 22m viewers and contributed to a surge in popularity for Mr Clegg.
Article viewed on Oye! Times at www.oyetimes.com.
You can publish this article on your website as long as you provide a link back to this page.