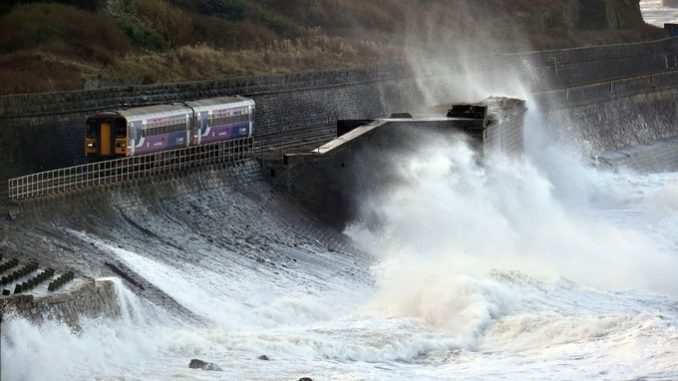 Three people have died and three more have been injured after remnants of Hurricane Gonzalo brought high winds of up to 70mph and heavy rain to batter Britain on Tuesday.
The hurricane began on the other side of the Atlantic Ocean, when it hit the island of Bermuda last week.
But Gonzalo is no longer categorised as a hurricane anymore because it had lost a lot of power as it made its way across the Atlantic.
Among the casualties, a woman has died after being hit by a falling tree opposite Knightsbridge Barracks in central London this morning. Another man died in Essex while repairing a van which fell on him after a strong gust of wind topped it off a car jack. A 63-year-old died after his car hit a bridge in windy and wet conditions in Merseyside at around 4.30am.
The stormy weather have also led to three women being injured by a fallen tree at Southwick Recreation Ground in West Sussex just before 10am, including one woman who was thought to be in a wheelchair. They were all taken to the hospital.
Strong winds were recorded in north Wales, with gales expected to move east across the U.K. with the passage of time. The strongest winds are predicted to be in north Wales, north-west England, western Scotland and the north and east of Northern Ireland. There are also forecasts of heavy rain in a number of areas, while there could also be a chance of snow in the Scottish hills.
Met Office have issued a wind warning for much of the U.K. today, following which traffic disruption is likely to occur.
A Heathrow airport spokesperson has confirmed that around 10% of day's flights will probably cancel because of the weather conditions. The on-going disruption has hit the 20 biggest airlines serving the west London airport, with 110 flights cancelled as poor weather led to reduction in the number of planes allowed to land.
In addition, the train services are also facing delays due to fallen trees and debris on the tracks.
The road drivers are also advised by the forecasters to drive carefully during their journey and exercise caution when driving as fallen leaves and debris could affect drainage on the roads, increasing the risk of surface water and making conditions hazardous.
Article viewed on Oye! Times at www.oyetimes.com.