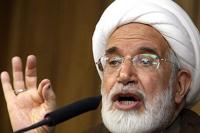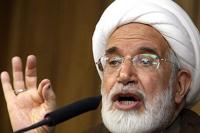 Opposition leader in 'better' condition
Iranian opposition leader Mahdi Karroubi has been allowed to meet with his family for the third time since the start of his illegal house arrest in mid-February.
On Saturday afternoon, the Green Movement leader was taken to his private residence where he was able to meet with his family, his son Mohammad Hosein Karroubi recounted in a note published by Saham news, the official website of the National Trust Party which his father heads.
"On Saturday afternoon, after a phone call from my mother, I was notified of an opportunity to meet father and that it had been decided that he be brought to his private residence," the statement said. "I quickly returned home and was able to see my father and have a conversation for half an hour," he continued.
"I found father to be more cheerful and healthier" that he was in previous meetings, the young Karroubi noted, adding that it was "clear" that the condition of his father's captivity had bettered in recent weeks.
For the past two weeks, the 2009 presidential candidate has also been granted access to the Jame Jamand Ettelaat newspapers, in addition to daily walks in an open space.
According to Karroubi's son, his father's captives had originally taken him to Beheshte Zahra cemetery where his parents and recently deceased sister are laid to rest. When returning from the cemetery, the security agents informed the opposition figure that he was being taken to a property he had recently purchased in the Jamaran suburb in north Tehran, the same place where the brief encounter with his family took place.
Karroubi's son says that despite the hardships involved with his father's unlawful house arrest, "I am pleased and content that with the experience of such a house arrest, my father's name is now alongside the good names of clerics such as the martyr [Ayatollah] Modarres [a prominent figure during Iran's Constitutional Revolution] and Grand Ayatollah Montazeri who weren't prepared to trade their names for shame. Alas, I also see opportunistic clerics, such as Sheikh Mohammad Yazdi who, during the short years left of their lives, are cunningly prepared to become sycophants for rulers, much to the detriment of the clergy's standing."
Since the massive vote fraud during the 2009 presidential race, Mahdi Karroubi and Mir Hossein Mousavi have spearheaded Iran's opposition Green Movement. In mid-February, the two leaders called for a new round of protests in solidarity with the pro-democracy movements of the region known as the "Arab Spring."
Shortly after the demonstrations, the two men and their wives were placed under house arrest, while being denied a fair trial. Rights groups say their continued captivity and maltreatment is inconsistent not only with human rights provisions but also with Iran's own constitution.
Prior to his house arrest, Karroubi's home had been the target of relentless attacks by state-sponsored vigilantes who vandalised his residence in the hope of intimidating and eventually silencing the outspoken reformer.
Karroubi's played a vital role in exposing the widespread human rights violations that occurred in Iranian prisons during the post-election unrest two years ago. The cleric said that protesters arrested during opposition demonstrations had been raped and tortured while in detention. One of these prisons, the Kahrizak detention centre, was closed down after supreme leader, Ali Khamenei, ordered its closure. The move came after Mohsen Rouholamini, the son of a prominent conservative figure was named among prisoners who died in the centre.
Click HERE to read more.