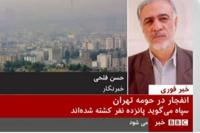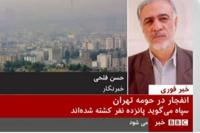 'His only sin is speaking his mind'
A group of 101 Iranian journalists have called for the release of imprisoned freelance journalist Hassan Fathi.
Fathi was detained on 13 November on charges of "propagating lies" and causing "anxiety for public opinion." His arrest came a day after he took part in a BBC debate, which discussed an explosion at a Revolutionary Guards ammunition depot west of Tehran.
The blast left seventeen guards dead, including a key figure in Iran's missile programme, General Hasan Moghaddam.
In their statement of solidarity, the 101 journalists said Fathi's only "sin" was that he had "spoken his mind." "Despite having been imprisoned for weeks, it's still unclear who has jailed him or for what reason. It's only been said that he's been imprisoned so that others will be taught a lesson and will refrain from criticising, analysing and breaching [certain] red lines."
"It is not worthy of Iranian to have their homeland named as the world's greatest jailer of journalist," they added, while calling for the "immediate" release of Fathi from prison.
A December 2011 survey published by the New York based Committee to Protect Journalists found that Iran was officially the worst jailer of journalist in the world.
The CPJ study, which was made public on Thursday, listed "179 writers, editors, and photojournalists" behind bars, an increase of 34 compared to the group's 2010 report.
"Iran was the world's worst jailer, with 42 journalists behind bars, as authorities kept up a campaign of anti-press intimidation that began after the country's disputed presidential election more than two years ago," CPJ added.
Eritrea, China, Burma,Vietnam, Syria, and Turkey trailed behind Iran as the world's worst imprisoners of journalists.
Click HERE to read more.