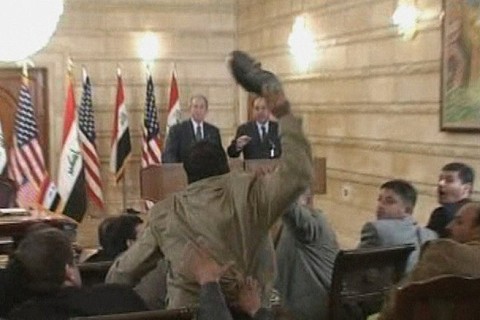 This article was last updated on April 16, 2022
Canada:

Oye! Times readers Get FREE $30 to spend on Amazon, Walmart…
USA:

Oye! Times readers Get FREE $30 to spend on Amazon, Walmart…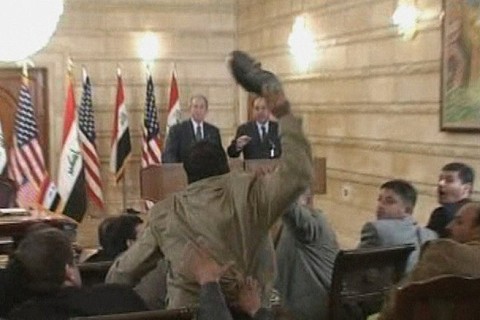 An Iraqi journalist who threw his shoes at George W. Bush apologised to Iraqi PM Nuri al-Maliki for embarrassing him before the watching world, the prime minister's office said on Thursday. TV reporter Muntazer al-Zaidi shot to fame when he called Bush a "dog" in Arabic last Sunday and threw his shoes at Bush, a gesture that is a deep insult in the Arab world.
Yasin Majeed, Maliki's media adviser, said Zaidi sent the prime minister a letter of contrition.
"Zaidi said in his letter that his big ugly act cannot be excused," Majeed said.
He said Zaidi added: "But I remember in the summer of 2005, I interviewed your excellency and you told me, 'Come in, this is your house'. And so I appeal to your fatherly feelings to forgive me."
Zaidi's whereabouts remained unknown four days after he became a hero to those who blame the U.S. president for tens of thousands of Iraqi deaths that followed the U.S.-led invasion of Iraq in 2003. Zaidi, a correspondent for an Iraqi-owned television station based in Cairo, Egypt, could face two years imprisonment for insulting a foreign leader.
His family says he suffered a broken arm and other injuries after he was tackled by Iraqi security officers and U.S. Secret Service agents who dragged him away struggling and screaming. His family say he is in a hospital in the heavily fortified Green Zone in Baghdad.
One of Zaidi's brothers said he had no information about him but found the idea he sent Maliki an apology unbelievable.
"This information is absolutely not true. This is a lie. Muntazer is my brother and I know him very well. He does not apologise," Udai al-Zaidi said. He added: "But if it happened, I tell you it happened under pressure."
Zaidi was brought before an investigating judge on Tuesday and admitted "aggression against a president", a crime that could incur a 15-year sentence, judicial officials said. He could face trial soon.
Zaidi's David-versus-Goliath act has made him a sensation in the Arab world, where the U.S. invasion of Iraq and Washington's support for Israel have cause deep animosity towards Bush. Zaidi's attorney says more than 1,000 lawyers have offered to defend him.
An Egyptian man offered his 20-year-old daughter to Zaidi as a bride and shoemakers from Turkey to Lebanon have claimed the shoes he threw were made in their factories.
George Bush shoe Iraq Baghdad Nuri al-Maliki Muntazer al-Zaidi In Iraq, hundreds of marchers have rallied to his cause and demanded his release. Parliamentary reaction has been divided, and MPs clashed this week over whether he should be forgiven.
You can publish this article on your website as long as you provide a link back to this page.