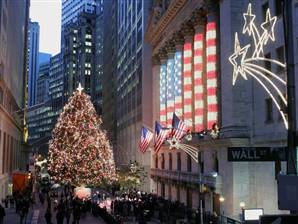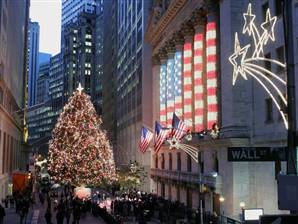 The screeching volatility that has been the hallmark of the stock market this year may take a break for the holidays.
Traders expect thin volume in the week ahead with few players taking on major positions. Home sales, durable goods data, consumer sentiment and the final days of holiday shopping will all give new clues as to the health of the economy during the dismal fourth quarter.
"I think the majority of people have really shut down the books for the year. If there's an opportunity, they'll try to take advantage of it, but I can't see anyone doing anything of great consequence until the beginning of '09," said Tim Smalls, head of equities at Execution LLC.
Stocks chugged higher in the past week, with the broader indexes edging out slight gains. The S&P 500 was up 0.89 percent at 887.60, and the Nasdaq gained 1.5 percent to 1564. But the Dow lost 50 points, or 0.6 percent to end at 8579. The Bush Administration's announcement that it would provide loans to General Motors and Chrysler eased investor concerns about a snowballing bankruptcy in the auto industry.
The big action though was in other markets. Treasury yields touched near record lows; the dollar swung lower in wild trading, and oil prices tumbled to an almost five-year low. Gold, meanwhile, found buyers in a week of uncertainties, gaining 2 percent to $837 per troy ounce.
Whither Stocks?
Citigroup U.S. equities strategist Tobias Levkovich said as 2008 exits, investors are not making major investment decisions but early in the year there could be some money flowing into stocks because of the changes in Washington. "I suspect with the Obama inauguration there's going to be some excitement going into it," he said.
"I think the President-elect has been pretty open and fair to play down the expectations for a big bounce in the economy just because he's sitting in the White House," Levkovich said.
He said stocks benefited from leaks on the stimulus package which is expected to be put forth, once President-elect Barack Obama takes office. But he said the package will not generate real growth. "It mitigates the pain. The economy could be down much worse if you didn't have a stimulus program. To suggest the stimulus is growth is a misinterpretation," he said.
Separately, Citi analyst Brian Chin said in a note that some infrastructure related stocks, like Fluor, were overvalued by "Obama-mania." He said the stocks would see a less than 5 percent earnings improvement from the stimulus over two years, but the stocks have risen 75 percent in a month.
Levkovich also notes the market reacted to the idea of a huge infrastructure play, but the spending on infrastructure will be relatively small compared to what is spent over the anticipated two-year period. "$100 billion is probably going into Medicare and Medicaid. $100 billion could be going into low and middle income tax cuts. None of that is going to be spent on infrastructure. The numbers are probably in he $350 billion a year range. The money is also going into food stamps, unemployment programs, alternative energy. Then there's going to be some of it going into infrastructure for things like roads and bridges," he said.
Levkovich said he expects stocks to end 2009 higher but not much. He has a target of 1,000 on the S&P 500 for year end 2009. "You could have rallies above that," he said. He likened the current environment to other periods when the economy was under stress but there were still opportunities in the stock market.
He pointed though to the 1930s and 1970s. "Once we hit bottom, from 1932 to 1940, still in the Great Depression, there were five major trading rallies. The average gain was 92.8 percent. So even in the Great Depression, you could have made a lot of money trading stocks," he said.
In the 1970s, there was a similar story. "From the 1974 bottom to 1982, the beginning of the great bull market, you had six trading rallies and you're average gains were 32.5 percent," he said.
Levkovich said Citi has a "panic/euphoria" model which examines what investors are doing in their portfolios. He said that model went into "panic" mode a week ago. "When it's in panic, there's a 97 percent probability the market will be up a year later," he said. The model is built around 9 different factors, that include such things as margin debt and short selling. The five-year-old model has been tested on weekly data going back 20 years.
The stock sectors he currently likes now are diversified financials, insurance, and select retailers. "The good news for them (retailers) right now is expectations are pretty lousy," he said.