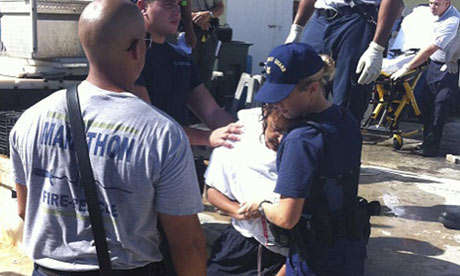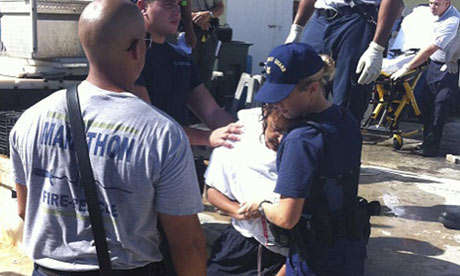 According to the U.S. Coast Guard as many as seven people spent 20 hours hovering in jerky seas off the Florida Keys before a commercial fisherman spotted their overturned pleasure boat.
The commercial boat saved three men miraculously holding on to the overturned craft and alerted the Coast Guard, who found a 4-year-old girl and three women clinging on to a floating cooler on Sunday. An 80-year-old woman was missing and presumed drowned.
"Treading water just for one hour is challenging to say the least, but when the will to live kicks in human beings can do amazing things," Petty Officer Nick Ameen said.
The boaters weren't wearing life jackets when their craft rolled over off Long Key in wavy, rainy waters on Saturday afternoon, Lt. Kara Lavin said.
"The weather was not favorable at all for boating over the weekend. It's also pretty amazing that the group was able to tread water for so long in those rough seas," Ameen said.
The minor and a couple of other boaters were taken to Fishermen's Community Hospital in Marathon. Calls made to the hospital early Monday were not straight away returned.
The child was suffering from hypothermia, Ameen said.
The identities of the boaters had not been released as of Monday morning.
Article Viewed on Oye! Times @ www.oyetimes.com