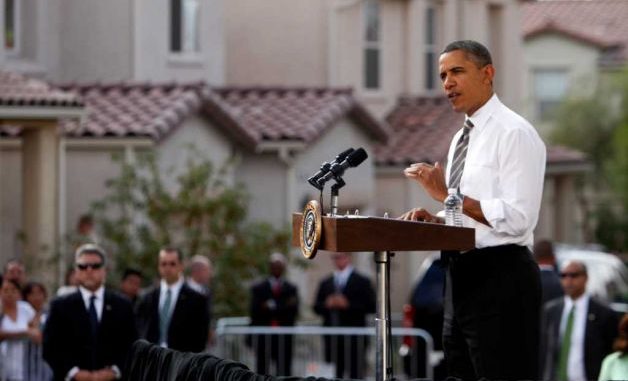 Much to the relief of gazillion Americans, President Barack Obama on Monday offered mortgage relief which many believe is his latest effort to ease the political and economic fallout of a housing crisis that is seriously hampering his re-election chances.
"I'm here to say that we can't wait for an increasingly dysfunctional Congress to do its job," the president declared outside a family home in Las Vegas, the epicenter of foreclosures and joblessness. "Where they won't act, I will."
Making a case for his policies and a new effort to circumvent roadblocks put up by Republican lawmakers, Obama also laid out a theme for his re-election, saying that there's "no excuse for all the games and the gridlock that we've been seeing in Washington."
"People out here don't have a lot of time or a lot of patience for some of that nonsense that's been going on in Washington," he said.
The new rules for federally guaranteed loans represent a recognition that measures the administration has taken so far on housing have not worked as well as expected.
While Obama has proposed prodding the economy with payroll tax cuts and increased spending on public works and aid to states, he has yet to offer a comprehensive refurbish of the nation's housing programs. Economists point to the burst housing bubble as the main culprit behind the 2008 financial crisis.
Article Viewed on Oye! Times @ www.oyetimes.com