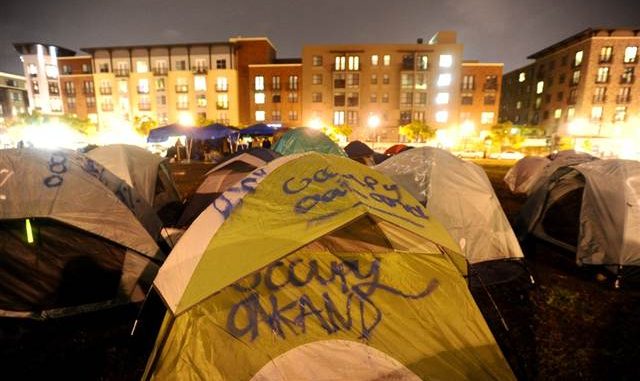 Anti-Wall Street protesters took over a vacant lot and adjacent park in downtown Oakland late Saturday and erected a tent camp to replace one torn down by police, setting the stage for a potential showdown.
Protesters marched to the lot and tore down a chain-link fence before pitching tents as a light rain started. Police on the scene did not immediately intervene and the camp later expanded into an adjacent public park.
"Occupy Oakland has a new home at 19th and Telegraph," organizers said in a message to supporters, adding there would be a big "housewarming" party. "Bring tents!"
The move appeared to be a direct challenge to Oakland police who less than a week ago forcibly dismantled a similar protest camp nearby , and risked igniting a confrontation. Police have said they would not allow another encampment.
Previous unrest surrounding protests in Oakland has helped rally support nationwide for the Occupy Wall Street movement launched in New York in September to protest economic inequality and excesses of the financial system.
The lot and adjacent park are in a rapidly gentrifying area, and protesters said establishing a camp there would be a symbolic move in a city they complained looked out most "for the interests of big business and developers" over ordinary residents.
Oakland police had said they had a "non-confrontational strategy" for preventing a new campsite from being established, but did not elaborate.
Article Viewed on Oye! Times @ www.oyetimes.com