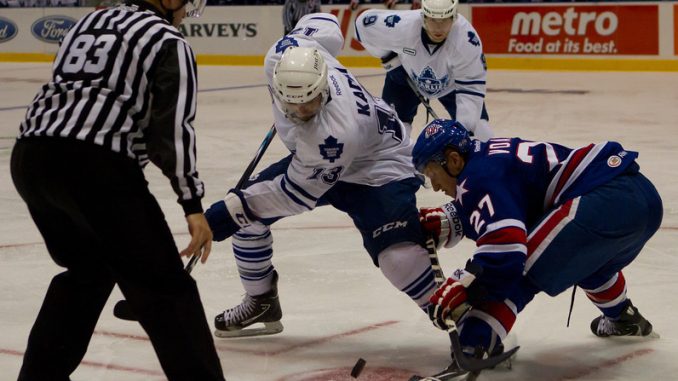 Marlies Overtake the Amerks to Take Top Spot in North Division

Home sweet home.
After ending a nine-game road trip the Toronto Marlies returned to Ricoh Coliseum Saturday to complete the home and home sweep with a 3-2 win over its rival Rochester Americans.
Down 2-1 late in the second period, the Marlies stunned the Amerks with two goals in 20 seconds from Korbinian Holzer and Mike Zigomanis for a second consecutive comeback victory.
The Marlies finished the 18-day excursion last night with a 2-1 win in Rochester, but had a rough 3-4-1-1 record in the nine games. With the back-to-back wins the Marlies (9-5-3) are now two points ahead of the Americans (8-7-3) for top spot in the North Division and have a game in hand.
The Marlies have won all three games against Rochester this season and realize the importance of getting wins against divisional opponents.
"It's huge. Those division ones now, the way the playoffs are set, you want to win your division," said Marlies Head Coach Dallas Eakins. "And you want to get to the top of the conference as well. So anytime we can put our foot on the division rival's throat, we want to press real hard."

Defencemen Simon Gysbers, who added a goal and two assists in the game, echoed his coach's sentiments.
"The last two nights really needed these points especially them being ahead of us last night and tied with us tonight, so these were huge," said Gysbers.
The Marlies finished the road trip with two straight wins and the players felt that the time away helped bring the team together.
"It really helps team unity," added Gysbers. "We're 18 days on the road – it's a long time to be together…it's great to be back in front of our home fans after being on the road for so long."
"Our road trip was tough to begin with, but near the end of it we were playing really well. And we were getting the results we wanted. We didn't change much coming home. We stuck to what we knew and what we're good at. Right now it's paying off for us."
The Marlies celebrated South Asian day as well on Saturday afternoon as recording artist Sonaa sang the Canadian national anthem and Dhol Circle and Nach Balliye performed during the intermissions for the 5,117 fans in attendance.
Bouncing Back

The Americans jumped out to an early lead after scoring on its first shot of the game. Just 1:34 into the first period, Amerks forward Marcus Foligno from outside the blue-line fired a shot that somehow eluded Marlies goalie Mark Owuya.
"I don't know" said Owuya. "I want to see it again. I saw it but somehow I don't know if I missed it and it wobbled. It was a weird goal but I've got to stop it anyway."
The Marlies would tie the game up before the end of the period after some great work by Nazem Kadri to drag the puck out front drew a delayed penalty. The puck came to Gysbers at the point and he fired it through traffic past Americans goalie David Leggio to make it 1-1.
The Americans were given a great opportunity to re-take the lead early in the second period when the referee awarded a penalty shot. But after looking shaky on the game's first goal, Owuya came up big stopping Rochester's Colin Stuart by kicking out his right pad.
The Amerks did finally go ahead at 11:24 when a Brayden McNabb point was deflected by T.J. Brennan and changed direction beating Owuya low stick side.

With just over a minute left in the second period, the Marlies capitalized off a lucky bounce on a late power play to tie the game. A point shot by Holzer hit the post, bounced out and hit the back of Leggio's skate and in.
Seconds later, after the Americans turned the puck over along the boards, Gysbers sent Hamilton in all alone on goal. Leggio stopped the Marlies forward with his left pad, but Zigomanis followed up the play and tapped in the rebound to put his team up 3-2.
Both goalies made great saves in an exciting third period. With just over five minutes left in the game, Leggio robbed Kadri from the right side of the net and kept his team within a goal.
Two minutes later with the Americans on a two-on-two rush, Owuya first kicked out a shot from Zack Kassian and then slid over to stop Foligno on the rebound.
For the second straight night Owuya allowed a weak goal, but bounced back for another solid outing between the pipes.
"His performance was a lot like last night," said Eakins. "Last night was like a carbon copy – a real questionable goal goes in on him early and then he rallies. And good on him because he made some big, big saves for us in the third period."
Eakins is also impressed with how his team doesn't panic when falling behind on the scoreboard and their ability to rally together.
"Well they're a resilient group," said Eakins. They don't have a lot of quit in them. They have great confidence in themselves and they don't get flustered by being down a goal or being behind.
"They know this is a long game, the tides will turn, there are times you are going to be under duress, and there are times when you feel great and you're going to be in the other team's zone. But I like our group's mentality. We've got good leadership in there…guys look after each other and we're usually able to come storming back."
The Marlies are back in action again on Sunday night and will host the Peoria Rivermen at 5 p.m. ET at Ricoh Coliseum. But Holzer will not be in the lineup as the Marlies announced after the game that he was called up to the Toronto Maple Leafs for its game on the road against the Carolina Hurricanes.

Three stars:
1) Simon Gysbers
2) Brayden McNabb
3) Mike Zigomanis
To follow me on twitter click HERE
Photos courtesy of JP Dhanoa
Click HERE to view more pictures from the game and South Asian day performances.
Download or stream the 500 Level podcast with co-hosts Aman Dhanoa and Ben Trattner as they discuss news, opinions, and views on Toronto sports from the Upper Deck. Leafs, Raptors, Jays, Argos, TFC – nothing is off limits. It's good to be a fan!
Also available on iTunes