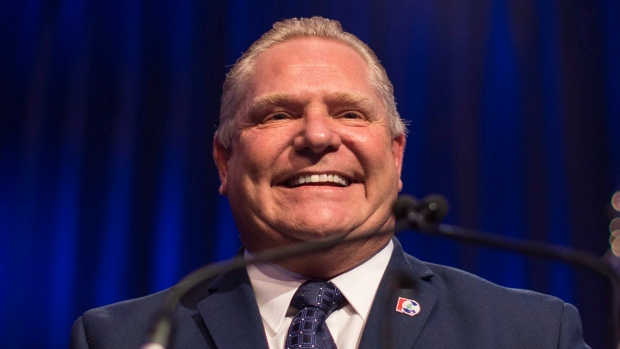 It wasn't like the film of the Jamaican bobsled team called "Cool Running's," It was far from that, it was more like the Energizer Battery "It just kept on going and going and going…
Earlier in the night Hartley Lefton, chair of the party's leadership committee, took to the stage.at the Markham Convention Centre to announce there's a review underway about an allocation of a certain list of electors. Upon telling those gathered to "please go home to await the results, we cannot stay here as the Markham Convention Centre has to tear down and set up for a fashion show Sunday. To his surprise he was met by loud jeers and boos from the members attending who were tired and frustrated.
Frank Klees former provincial legislator never shy for a word was unimpressed and called upon the entire party executive to step down.
But all was well in the end as finally late Saturday night
former Toronto city councilor Doug Ford was officially announced as the new leader of Ontario's Progressive Conservatives by a narrow margin. Ford in the end defeated former provincial legislator Christine Elliott, Toronto lawyer Caroline Mulroney and social conservative activist Tanya Granic.
Just over an hour after Forwards acceptance speech, Elliott had not conceded the race as her campaign cited serious irregularities in the voting was the reason. However in a statement issued Sunday night, Elliott struck a conciliatory tone and congratulated Doug Forward as the new leader and accepted the result.
It's perhaps fitting given the short time of a six-week race that it wrapped up the same way it had begun with a bumpy road to the end.
It wasn't "perfect," but it's finally over and the party has to get behind the new leader and defeat Katherine Wynne's Liberals in June said," Paul Calandra former Federal Member of Parliament running for the Provincial Riding seat of Markham Stouffville.
Footnote: I ask what happened to all the 100's of Balloons that were left in the ceiling that drop could have been the big highlight!