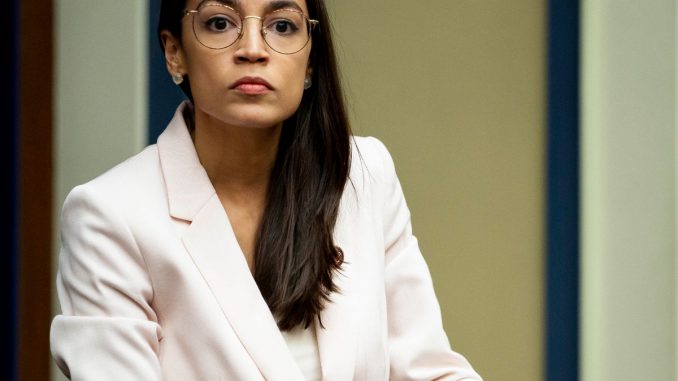 It's Alexandria Ocasio-Cortez's 30th birthday today and to celebrate, we want to highlight one of our favorite things about the freshman congresswoman: her tweets. The congresswoman will come for anyone that comes for her — and we love that about her.
Not only is she the youngest woman to have ever been elected into Congress, but she is also one of the best tweeters to have ever graced the platform. She has built a dedicated follower base that, according to The Guardian, has increased by 600% since she took office less than a year ago. As one of the first digital natives to take office, she is truly showing everyone what can be done when millennials are given a position to represent those around them. Sure, she is using her platform to talk about policy and social justice, but she is also sharing her skincare routine and recipes for one-pot noodles — she isn't just her job.
Ocasio-Cortez is fearless both online and offline about her beliefs in equality for all, sustainability, and progress that benefits everyone and not simply the country's most wealthy.
Click through to see 30 of our favorite tweets from Ocasio-Cortez.
This time last year, Ocasio-Cortez was reflecting on her adult life up until now and even though she hasn't had what some would call a "traditional" path to politics, she knows that you don't need one to be successful.
In case anyone needed proof that she worked really hard to get to where she is.
Sometimes you don't need to say much to make the best clapback.
I mean, if we're splitting hairs…
Even in her sarcastic comebacks, she stays on top of her key issues.
Every clapback is an opportunity to talk about how bizarre and messed up cat-calling is.
Can we get "Get used to me slaying" on a mug, please?
It can be hard to capture sarcasm in writing, but she doesn't seem too disappointed to be "found out" if you ask us.
If this doesn't make you fall in love with Ocasio-Cortez, we don't know what will.
She's not afraid to call out the inconsistencies of the systems she now has access to as a member of Congress.
Can someone teach AOC's haters how photoshoots work?
You better come correct if you're going to educate Ocasio-Cortez.
If you're going to try and come for AOC, it's best to do your research first.
Ocasio-Cortez reminding people that assumptions have no place in her political beliefs.
We love someone who shouts out others' contributions in their clapbacks.
It really is as simple as that. Believe women and people of color.
Don't try and delete your hate — Ocasio-Cortez has receipts.
It seems like a fair range.
Not all the haters choose the internet as their forum, but Ocasio-Cortez will clap back at them all equally.
It was never about the croissant.
She's also open to teaching others how to get her impressive Twitter presence.
Ocasio-Cortez has no time for needless criticism about minor slip-ups in the face of larger policy issues.
Sometimes short lists are the best way to organize your comebacks.
Just in case anyone was wondering.
Fake videos can't stop Ocasio-Cortez.
She's not afraid to call out double standards.
She did offer a class…
Just a very necessary reminder to President Donald Trump that the law does apply to him.
Ocasio-Cortez knows that if someone is going to be a hater, it is more about them than anything you do.
AOC sums it up: don't mess with women from the Bronx if you don't want to get roasted.
Click HERE to read more from Refinery29


Loading ...