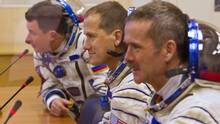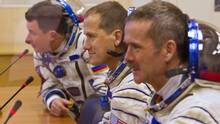 Chris Hadfield, famous Canadian astronaut on a journey of space in Russian space capsule has reached today at the International Space Station. Hadfield is accompanied on his journey by NASA astronaut, Tom Marshburn, and cosmonaut, Roman Romanenko, who linked up with the space station's Rassvet module at 9:09 a.m. ET after almost two days in the orbit. Their destination was reached almost 410 kilometers above their point of launch, i.e. the Baikonur space port in southern Kazakhstan.

Hadfield's tem will meet NASA's astronaut, Cmdr. Kevin Ford, and his crew including flight engineers and cosmonauts Oleg Novitskiy and Evgeny Tarelkin, who are in charge of the space station since Oct. 26. Ford and his team have allegedly planned a welcome ceremony that will commence around 11:45 a.m. ET, on Friday when the hatch opens. Hadfield will spend roughly five months aboard the International Space Station, and will be credited to be the first Canadian to do so in the 14-year history of the giant orbiting space laboratory. Hadfield will take charge in place of Ford, Novitskiy and Tarelkin and allow them to return home.

A former Canadian astronaut, Bob Thirsk, claims that Hadfield's task is indeed challenging as he is trusted to maintain crew morale and ensure the crew has paced itself in an effective manner. He added that staying that far away from family is often tough for astronauts who spend a long period of time on the space station. This is Hadfield's third space journey.