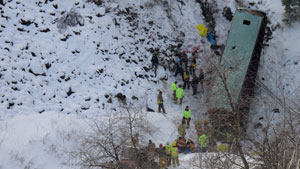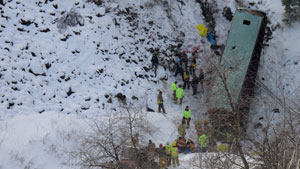 The police in Oregon has stated that their investigation could take longer than a month to find the cause of the bus accident, driven by a 54-year-old Vancouver man, which took lives of nine passengers along with dozens of injuries.

The bus accidently flipped over the railing aside the road and tumbled over for at least 60 metres, a little west of an area called Deadman Pass. Initial reports disclosed that the distance was around 30 metres, but latest police assertions claim the dive was of at least 60 metres. It was confirmed by the Oregon State Police Lt., Gregg Hastings, at a news conference on Monday that the bus occupied a total of forty-eight passengers along with the driver. The passengers were between 7 and 74 years old. Almost thirty-nine of whom received treatment at local hospitals. Lt. Hastings alleged that even though the highway was icy and snowy, weather is not a confirmed cause of the accident as the police is currently investigating all possibilities, including weather, speed, vehicle condition and the bus company's safety record.

The bus belonged to the Mi Joo Tour & Travel company in Vancouver, whose driver was unable to provide any helpful information to the police due to his ill condition. Lt. Hastings pointed out that driver was the only person wearing seatbelt, as passengers do not usually wear seatbelts on these types of buses. Lt. Hastings was unclear about the drivers experience so far, but it was confirmed that the bus had travelled from Las Vegas to Boise before continuing towards Vancouver.