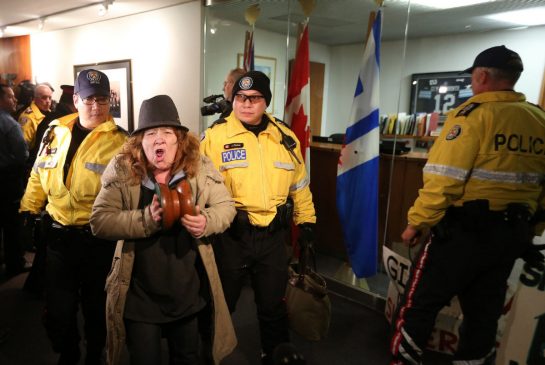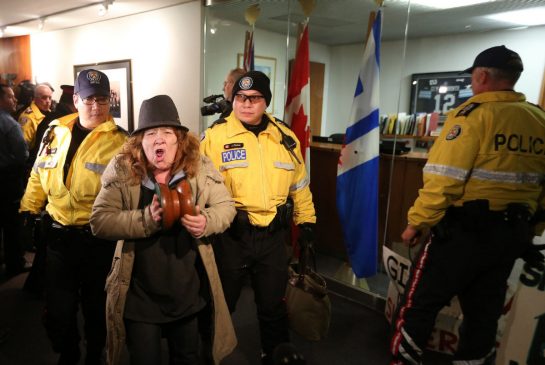 An estimate of 40 protesters, attempting to seek attention and raise voice for the troubles of Toronto's homeless, were arrested by police and charged with trespassing as they denied multiple requests of vacating city hall on Friday evening. The event was highlighted by several of city's media outlets, showing that the peaceful event was essentially aimed at acquiring attention and raising concerns.

Before being escorted by the police, the spokesperson of the Ontario Coalition Against Poverty, John Clarke, alleged that after this demonstration city councillors will at least know that "there are people who are prepared to take a stand," while challenging that "(Mayor Rob) Ford and all of them better understand that the time for silent suffering is over, we're not going to live in a city where human life is lost on the streets to social abandonment and neglect, it's going to be challenged."

Local police was called in at the city hall on late Friday evening, where the supporters of the homeless were staging a protest for most of the day, as even after the building was closed, they refused to leave. The City of Toronto contacted police, almost around 10 p.m., which informed Clarke that they would begin removing protesters individually under the "trespass to property act." Each peaceful protestor was escorted by two officers while encircled by a circus of media, few of which even nodded to the explanation of the charge. Outreach worker Richard Dalton said he was willing to be arrested because people have nowhere to go.