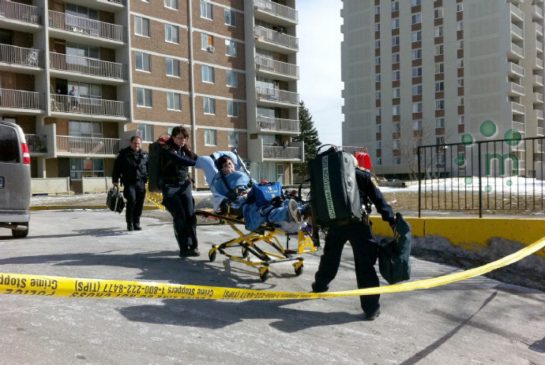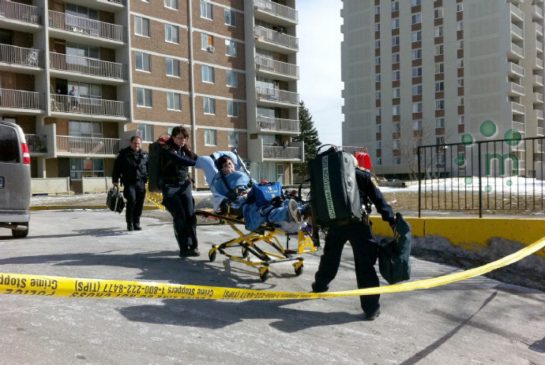 Durham police confirms that emergency crews, including police and paramedics, responded to the emergency call informing about four people being shot near an apartment building in Whitby this afternoon, and arrived at 101 White Oaks Ct. around 12:30 p.m.

Police discovered four people with gunshot wounds, one of whom, a 19-year-old male, was in a serious condition and was quickly escalated through a helicopter to St. Michael's Hospital. All neighbors around the apartment building confirmed hearing sounds of several gun shots. A resident of second floor, Ofra, alleged that "It sounded like a car backfiring," while a resident of the fourth floor, Scott Dunn, stated that "I heard the shots but I didn't know what the hell it was." He explained that "It sounded like pops, like someone took a string of firecrackers and threw it down." Dunn elaborated that once after emergency crews had arrived, he witnessed all victims, who appeared to be all young black males, being carried into ambulances as police started to canvas the area.

Another witness, residing on the sixth floor of the building, reported that "It just sounded like … chaos," as she described the noise to be as of what she believed to be gunshots, alleging that "It just kept going," before she ended up leaving her apartment and heard screams in the stairwell. Police confirms to have installed a perimeter around the 20-storey- building, while more than a dozen police cars encompass the area and officers scour the area for suspects. No arrests have been made so far.