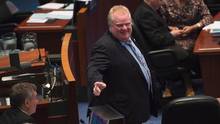 This article was last updated on April 16, 2022

Pressure is building up for Toronto Mayor Rob Ford to speak out on the allegations made against him almost a week ago, asserting that a video circulates showing him smoking crack cocaine and using foul language. Unlike himself, Mr. Ford has remained extraordinarily and curiously silent on the accusations, which he called "ridiculous" late last week.
Discussing the matter with reporters on Thursday, Toronto Coun. Josh Matlow stated that the allegations which made international headlines have brought negative attention to the city. He stated that "it doesn't do a good service for Toronto. I hope that the mayor will come forward and just address this. Help us move forward." Matlow added that "we can't force somebody to speak. That's the mayor's decision whether or not he'd like to. But it's not good enough just to get your brother to go and do a press conference." Addressing a press conference on Wednesday, Coun. Doug Ford alleged that "Rob's telling me these stories are untrue, that these accusations are ridiculous." Ford added that "and I believe him."
Another Toronto Councilor, Ana Bailao, also asked the mayor on Thursday to address the allegations, asserting that the scandal has been "distracting" for councillors. She mentioned that "I think Torontonians want to hear from the mayor," and that "these are very, very serious allegations." She added that "it's very distracting for city hall… Us councillors are making an effort to concentrate on our business, on our work. But it's obviously distracting to have this big cloud on top of our heads and not being addressed."
You can publish this article on your website as long as you provide a link back to this page.