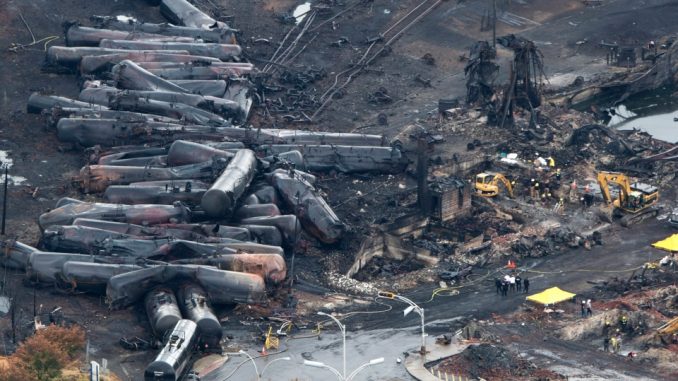 In light of the recent dreadful accident of a crude-oil-carrying train crash in the Quebec town of Lac-Mégantic on July 6, which caused death of 47 people, The Montreal, Maine and Atlantic Railway has announced its decision to suspend transportation of oil immediately.

In a report published by Montreal Gazette, it has quoted MMA Chairman, Ed Burkhardt, saying on Tuesday that the Hermon-based company will stop transporting oil because "it's proven to be more trouble than its worth, and I guess that's putting it mildly." Burkhardt revealed that the company intends to resume its services almost at the end of this week on the undamaged rail lines at the east side of the accident site in Lac-Mégantic. As of Tuesday, majority of the town remains closed while crews haul away debris and dig oil-contaminated soil. Burkhardt expressed optimism about the freight he has allowed to pass through the town in the coming weeks, including cargo like paper, wood pulp, logs and automobiles. He stated that in case that freight volume amplifies, the company will add to the 88 layoffs, 64 in Maine, which were made in the wake of the disaster.

However, Burkhardt reiterated that bankruptcy might still be a possible future for the company. The company and its insurer failed to meet a deadline on July 25, set by the town to pay $7.8 million in cleanup fees for the disaster. Although, Burkhardt claims that the company's insurer has agreed to pay up but they were delayed for technical reasons.