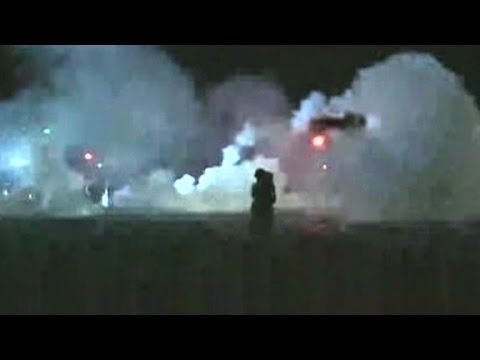 The recent violence in Ferguson, Missouri has been more than eye-opening, particularly when we see how well equipped the local police appear to be. In fact, if you didn't know better, you'd think that you were watching a battle taking place in a war-torn part of the world. Here's an example:
Have you ever wondered where the funding for these well-equipped police forces comes from?
According to the Department of Homeland Security's Department of Public Safety
website
, the money that funds Missouri's terrorist preparedness under the State Homeland Security Program (SHSP) is used to "build or enhance capabilities that relate to the prevention of, protection from, or response to, and recovery from terrorism…". As well, the website notes that "…many capabilities which support terrorism preparedness simultaneously support preparedness for other hazards…". In other words, arming local police departments to fight demonstrators. Here's a screen capture showing the entire web page:

In fiscal 2013, the Department of Homeland Security provided a total of over $1.5 billion to assist states and urban areas (among others) to strengthen their ability to "…prevent, protect, mitigate, respond to, and recover from terrorist attacks, major disasters and other emergencies…". Within that budget, nearly $559 million was allocated to 25 high density urban areas to enhance regional preparedness and capabilities. St. Louis, of which
Ferguson
is a suburb, is one of those 25 cities that received their share of the $559 million. The 9/11 Act has only one requirement; that states dedicate 25 percent of Urban Area Security Initiative funds to law enforcement terrorism prevention activities. The other 75 percent is unencumbered. It certainly appears that in the post-9/11 world that Washington took anti-terrorist funding to the extreme; actions that have now had unintended consequences. Looking at the bigger, national picture, Homeland Security funding for states in fiscal 2014 finds the New York State Division of Homeland Security at the top of the heap for awards, receiving
$691,990,859
from the federal Department of Homeland Security after getting $868,428,410 in fiscal 2013.
Ferguson, through St. Louis County,is also the beneficiary of the
1033 Program
, a law that allows the transfer of excess Department of Defense property to law enforcement agencies across America. The 1033 Program includes
fixed wing and rotary aircraft
, four-wheel drive vehicles, armoured personnel carriers for SWAT teams, firearms, ballistic helmets and vests among other items. Here is a screen capture of the Law Enforcement Agency Weapon Request form for Missouri:

Here's the first page of the multipage form that a Sheriff or Police Chief will fill out to participate in the 1033 Program in Missouri:

Note that any equipment granted under the 1033 Program is provided "as is".

Since its inception, more than $4.3 billion worth of property has been granted to local law enforcement agencies under the 1033 Program with $449.3 million worth in 2013 alone. It is no wonder that when we see fully equipped local policemen during a confrontation that they resemble well-armed military personnel. Programs like this are turning local police into local paramilitary. It appears that Ferguson/St. Louis is just the tip of the iceberg and that the paramilitarization of America's police forces has been taking place under the guise of protecting us from terrorism.

And to think that Ferguson's pride is that it was named one of America's "Playful Cities"!

Click

HERE

to read more of Glen Asher's columns