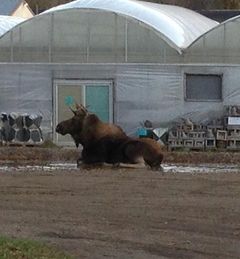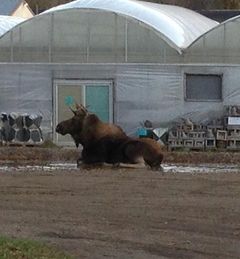 Brandon police officers were quite busy on Friday morning, tasked with taking care of a loose moose that was spotted trotting around Brandon's east end. Alerted by an area resident, T. Keith Edmunds, police officers quickly got busy into chasing the moose out of city are.

According to Edmunds, citing a goose was a very unexpected and surprising way to start his day. He mentioned on Twitter that "if I had a list of all the things I expected to see in my back alley this morning, a moose would not have made the top 100." Whereas, shortly after his tweet, Brandon police tweeted from their official account at around 8 a.m. and confirmed that several officers were "wrangling" the moose around Rosser Avenue East. It was explained that the officers are attempting to escort the moose out of built-up residential areas. Furthermore, it was suggested that the nearby residents should remain cautious in that area. Soon after the initial tweet, they tweeted "Success!"

Later on, it was explained that the moose allegedly crossed over the river just northeast of the 1600-block of Rosser Avenue east and was out of the city. According to the police, the moose was chased out of the city "with a full police escort!" This is the second moose-sighting in Brandon this week. Earlier on Tuesday morning, residents of Marquis Crescent were surprised to witness a young moose trotting through the green space behind their yard before wandering off.