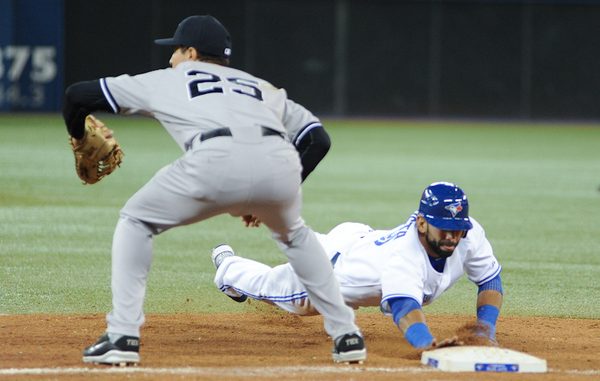 Brazilian-born Yan Gomes Gets Two Hits to Make Successful Major League Debut

As has been the case for many seasons the Toronto Blue Jays realize that for the team to even have a sniff at the playoffs it will have to play well and pick up important wins against other teams in a tough American League East division.
After snapping a seven game losing streak to division opponents in Wednesday's 8-1 against the New York Yankees, the Blue Jays (21-18) completed the sweep of a mini two-game with a 4-1 win at Rogers Centre.
Once again the long ball played a big part in the win as both Jose Bautista and J.P. Arencibia smacked two-run homeruns giving starting pitcher Drew Hutchison (3-1) more than enough offence to secure his third win in six career starts.
"I think I've thrown the ball pretty well," said Hutchison who struck out three batters and walked four. "I battled, definitely like tonight. Got in some situations, battled through it."
"I think I've given us a good chance to win every night no matter what type of stuff I have or how I've pitched I think we've been in the game to win which is something you go out and try to do every time out."
Manager John Farrell has been more than impressed with Hutchison's ability to remain mentally tough when he gets into tough situations and also by showing resiliency to battle his way out of jams like he did on Thursday night. The pitcher's mental game is the main reason why the organization felt he could make the jump from single-A right to the major leagues.

"If the game is speeding up on him mentally he certainly doesn't show it outwardly," said Farrell. "One of the reasons we felt with limited experience even above A-ball we felt like he could handle this environment because of the poise and composure and he shows that almost every start he takes to the mound because there's been some traffic for him to pitch around.
"He does a very good job of keeping the game under control."
Arencibia and Bautista have both hit homeruns in back-to-back games. The catcher has been hot at the plate entering the night hitting .324 over his previous 21 games.
Although Bautista struggled early on he's showing signs that his bat is finally coming alive. Bautista now has 10 homeruns this season and has five in seven games with seven in the month of May alone. It seems safe to assume that he is cracking out of his slump in a big way.
"Well if going deep five times in seven games isn't locked in then we're in for a real treat if he's yet to click in," said Farrell. "One thing Jose continues to do despite a slow start, relative for him, he didn't waver from his routine, his preparation and while some frustration did evolve or emerge over the first three or four weeks of the season."
"We saw times when he would press a little bit, but once he hit a couple of balls out of the ballpark I think it was an ability for him at that point to just take a little bit of a deep breath and relax a bit and let his true abilities come out which they're doing over this 10-12 game stretch."
The Yankees (20-18) have now lost four of its past five games. Starting pitcher Phil Hughes was yanked in the sixth inning trailing 2-1. He gave up seven hits, struck out five and only walking two in a decent outing for New York.
The Jays new temporary closer Casey Janssen closed out the win by retiring the side in the ninth inning for his third save in as many tries.
Impressive Debut

For call-up Yan Gomes, Thursday night was not only special for him and his family but an important achievement in Brazilian sports history.
When the Blue Jays prospect started at third base in place of the suspended Brett Lawrie, he became the first Brazilian-born player to appear in a Major League game. The Sao Paolo, Brazil native moved to the US with his family when he was 12 and was drafted by the Blue Jays in the 10th round of the 2009 First Year Player draft.
"It's kind of sinking in right now. It's been a pretty long day. It's sinking in finally, getting in my head that I've made my major league debut so it's been an amazing day," said Gomes.
"It's an absolute honour to represent Brazil and being the first one. I know it's a big thing so I'm very proud – it's awesome."
Arencibia was smiling ear-to-ear when asked about Gomes' impressive debut.
"That was huge. I'm just glad, well one, the first Brazilian-born major league baseball player," said Arencibia. "Think about all the great athletes that have come out of that country and to be able to say you're the first to make it to the major leagues that's pretty spectacular.
"I get chills just saying that right now. That's the coolest thing. For me, I'm just pumped as can be for him to come up to get the opportunity and to get a couple of hits right off the bat."

Gomes seemed overwhelmed in his first at-bat in the second inning when he came out swinging for his first strikeout in the majors. But he settled down quickly for two singles in the fourth and sixth innings. He admitted that when he walked to home plate for the first time he was had a hard time collecting his thoughts.
"Tons of things ran into my head but I knew that I just needed to relax and worry about what I was doing at the time," said Gomes. "I was just thinking about I knew that my parents were definitely crying. It's crazy, kind of like a rollercoaster."
After the game with the media swirled around him Omar Vizquel, who replaced Gomes in the eighth inning as defensive replacement, handed him two mementos of his first game – a ball from his first at bat and the ball from his first major league hit.
Ironically, after Gomes was barely tested at third base, the first play after Vizquel entered the game, the future hall-of-famer made an incredible acrobatic, diving catch robbing Robinson Cano of an extra base hit. Fans and teammates were all in awe at the 45-year-old's remarkable ability, especially Gomes who admitted that he could not have made the catch."It's an absolute honour playing next to a definite hall of famer like Omar and just being in the same dugout with him, it's unbelievable."
The Blue Jays will now close out its seven-game home stand hosting the New York Mets for three games in interleague play starting Friday night.

To follow me on twitter click HERE
Photos courtesy of Karan Vyas.