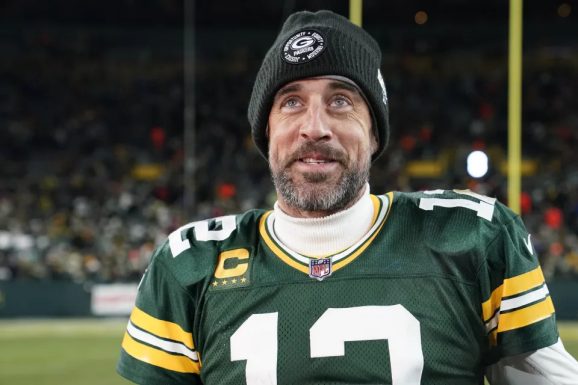 This article was last updated on March 29, 2023
Canada:

Oye! Times readers Get FREE $30 to spend on Amazon, Walmart…
USA:

Oye! Times readers Get FREE $30 to spend on Amazon, Walmart…
Aaron Rodgers trade talks
The Green Bay Packers and New York Jets are working on finalizing a trade for quarterback Aaron Rodgers, but there is a looming pressure point in their talks. Green Bay's offseason workout program starts on April 17, and if Rodgers is still on the Packers' roster, the NFL's collective bargaining agreement with the NFL Players Association requires that he cannot be kept away from the team facility once workouts begin. This means that if Rodgers chooses to show up, it could make things awkward for Green Bay's front office, with whom he is not currently on great terms.
There are two questions to consider: would Rodgers actually show up to apply pressure on the trade talks, and would the Packers let the talks drag on long enough to give him the opportunity? While Packers head coach Matt LaFleur declined to comment on the matter, insiders involved in the trade talks suggest that the April 17 start date is an "artificial deadline," with the next key moment being the week before the NFL Draft.
As of Tuesday, there was some optimism that a deal was inching closer between the two sides, with the Jets reportedly offering a pair of second-round picks in the 2023 and 2024 drafts to the Packers in exchange for Rodgers. However, the sticking point in the deal was the Jets requiring some kind of draft pick "give back" in 2025 if Rodgers declines to play beyond the 2023 season.
The ongoing wrangling over this aspect of the deal is creating a drag on the trade discussions, now entering their third week and becoming more prickly publicly. The situation could become even messier if Rodgers decides to attend workouts, although it's not unprecedented for a quarterback to be kept out of the team's facility while trade talks are ongoing.
Overall, the trade clock is ticking down, and the calendar on offseason workouts is running out. As a result, Green Bay may need to prepare for a messier situation in the coming weeks.
You can publish this article on your website as long as you provide a link back to this page.